Posted in Features, News on Jul 13, 2022.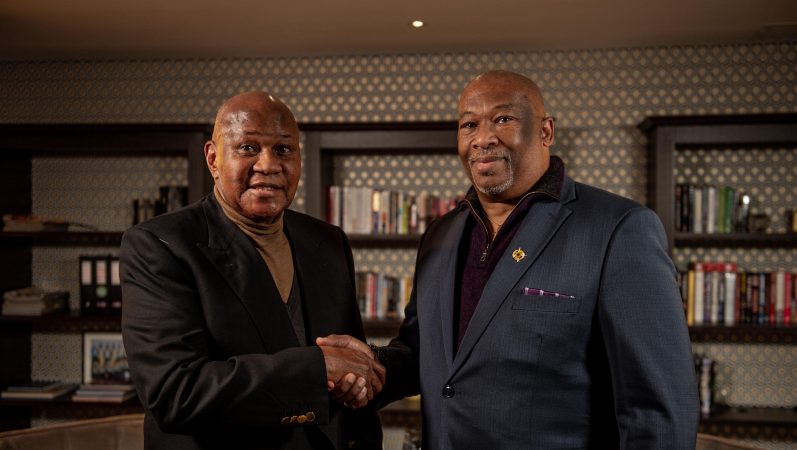 Kaizer Chiefs chairman Kaizer Motaung this week played host to a special visitor from the United States of America, as he met with Derrick Moite, a childhood fan of the Chiefs Chairman's former team in the USA the Atlanta Chiefs.
Moite was on hand to hand over a specially commissioned painting to the Chiefs Chairman linking his history with both Atlanta and Kaizer Chiefs, and during the handover explained the significance of the painting.
"I wanted to do something for the Chairman that would link his past with Atlanta Chiefs and his present team together. So, I got a friend of mine in Ghana to do this artwork which symbolizes the Chairman's past at Atlanta Chiefs, and what he has built at Kaizer Chiefs," explained Moite of the significance of his special gift.
Upon receipt of the gift an emotional Chiefs Chairman added, "At Atlanta United I had Ghanaian teammates as well. So, there is a Ghanaian link with the team which adds to the symbolism of this gesture. I am very grateful to Derrick for honouring me in this way".
Moite also added that the Chairman and his Atlanta Chiefs teammates played a big part in 1968 in bringing a city reeling from the assassination of US civil rights activist Martin Luther King together, saying. "I went to thank you because 1968 was a difficult year for Atlanta with desegregation coming into effect and the city was going through a lot. You and your teammates went out into the community and helped bring the different groups together."
The Chiefs Chairman was further touched by the words of Moite, who was a beneficiary of the Atlanta Chiefs community outreach programmes of the late 1960's.
"Our coach Phil Woosnam made sure we went out and worked towards bringing people together. The lessons I learnt in Atlanta of unity and bringing people together, became a calling for me and I decided to start my own team here in South Africa. Based on those principles of bringing all people together through football regardless of their backgrounds," said the Chiefs Chairman.
Moite would also like to see Chiefs play against the current Major League Soccer team Atlanta United.
"I will work to get a game together between Kaizer Chiefs and United. I have worked over the last many years to get the sports community in Atlanta to recognize the past achievements of Atlanta Chiefs. A match between Kaizer Chiefs and Atlanta Chiefs will help this, thanks to the Chairman that through Kaizer Chiefs Atlanta Chiefs has lived on in a way," said Moite.
The final word was left to the Chiefs Chairman.
"I thank Derrick for archiving and keeping all of these important elements of my history and Atlanta Chiefs' history. I had great memories in Atlanta and those are very important to me".
Moite also mentioned that the Chiefs chairman in order to build his own team in South Africa turned down a Million Dollar contract to remain in the USA and he said that he will do more research into the details of that story and divulge details on his next visit to Naturena.