Posted in Features, News on Jul 27, 2023.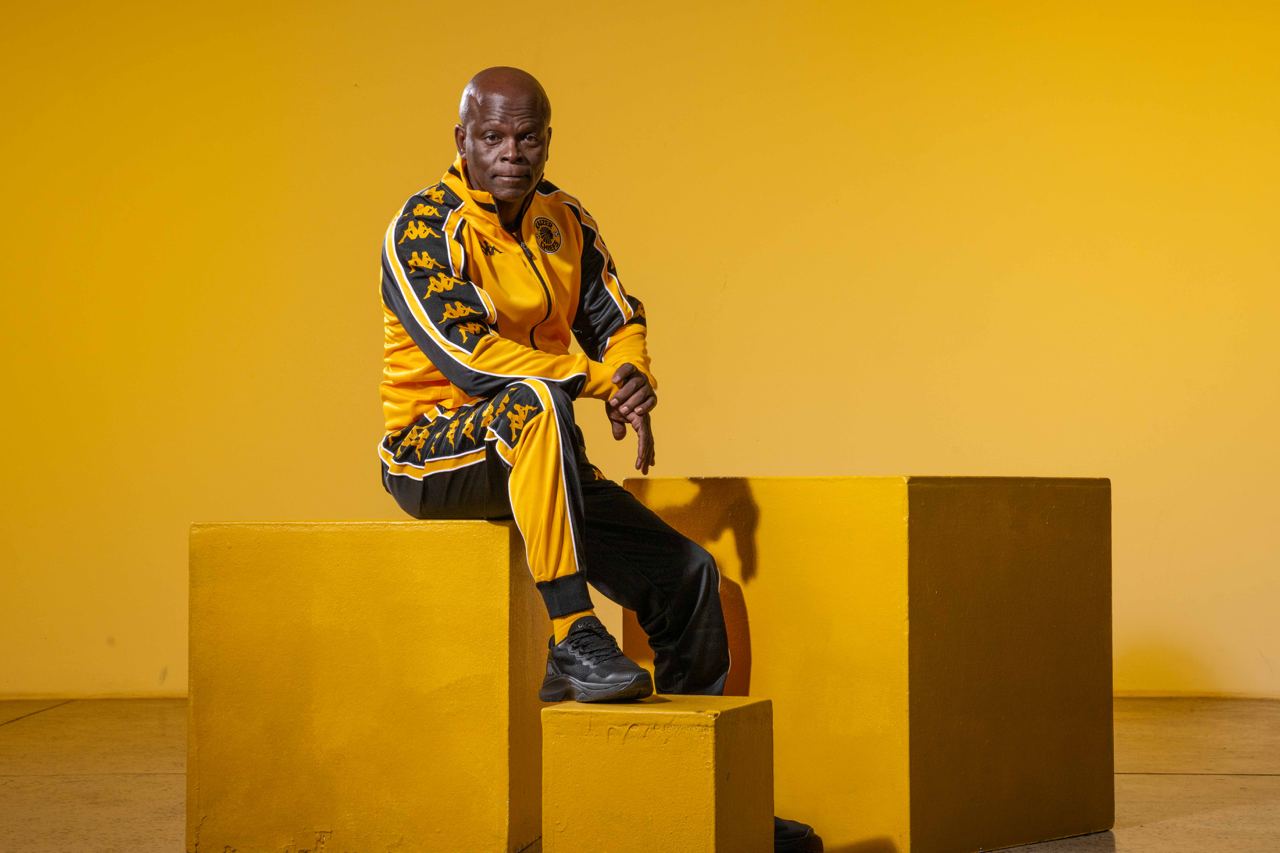 He has always been a classy and stylish footballer, so for Marks 'Go Man Go' Maponyane the Kaizer Chiefs' union with Kappa in the late 1980's and 1990's was a match made in football heaven - both on and off the pitch.
Chiefs and Kappa had a dreamy and dominant entry into South African football, with the Amakhosi winning a clean sweep of four trophies, the League, BP Top 8, JPS and Ohlsson's Challenge Cup in their first full season with Kappa.
And Chiefs' sensational number seven, Maponyane, was the standout player in that triumphant season, scoring an incredible 11 goals in 26 league games and nine in 12 cup games, as Chiefs' top scorer with 20 goals in 1989.
"It's an era that one will never forget," Maponyane told www.kaizerchiefs.com as he participated in a photo shoot which formed part of the launch of the new season home and away jerseys, with the return of Kappa.
And 'Mafa' has no doubt that the unique Kappa gear introduced into the country with the Kaizer Chiefs partnership was a huge part of the Amakhosi's success.
"It was something else; it was unique. It was so golden and silky and a lot of people envied Kaizer Chiefs at the time. We were the only team sponsored by Kappa at the time. When it was a windy or breezy day, you could feel that jersey leaving your body, but always coming back, and we would always complement it with the gel on our hair. With Doctor Khumalo, Trevor Mthimkhulu, Chippa Molatedi and all that hair spray, we used and think, 'now, we have to look good'. But gone are the days, no more hair," Maponyane joked as he recalled that wonderful Kappa era.
Of all the jerseys he has worn in his storied football career, the only two he kept were the short and long sleeve jerseys of that 1989 season – jerseys that remain works of art, and a big part of South African football folklore.
"They were beautiful, simply because of the design, the silkiness of the jersey, the uniqueness. It had memories. If you had one, you don't have to have four to remember you won four trophies in it that season. That is why I still treasure one or two shirts with Kappa. I never knew they would come back. It rekindles so many good memories from my side. It has always been a pleasure. I will never forget the long sleeve Kappa shirts we used to play in, in the JPS, simply because it was winter, that's why we had the option of a long and a short sleeve shirt. Having won four trophies in the Kappa jersey the first full year the club was introduced to the brand, we just hope Kaizer Chiefs wins the first one again in it, after a long time," says Maponyane.
The consummate storyteller he is, he recalls the greats of that Kaizer Chiefs era, none more so than Donald 'Ace' Khuse, Doctor Khumalo and Thabo Mooki, who joined him for the shoot.
"We had great players. I was up front with Shane MacGregor. We had the likes of Doctor Khumalo in the middle of the park. I remember Gary Bailey in that turquoise blue Kappa jersey, doing that dance on the pitch. That Kaizer Chiefs [team] was very dominant. We dominated South African football at the time. But when you watch Italian football, most of the Italian clubs wore Kappa, so one has never left eye contact with the brand. It's good to see them back," added Maponyane.
And he is delighted to see the famous lightning streaks of the Kappa jerseys of the 1980's and 1990's back in the new home kit – which excites him - as Kappa and Kaizer Chiefs reunite.
"There's a bit of heritage, especially the lightning streaks on the bottom half. They decided they're just going to tease the fans with that design. It was impressive. I am impressed, I must say. Kaizer Chiefs are still stylish, it means they still want to win. It's now up to the players to represent that which Kaizer Chiefs is known to have done well in, which is also the Kappa jersey," concluded Maponyane.