Posted in Features, News on Dec 09, 2022.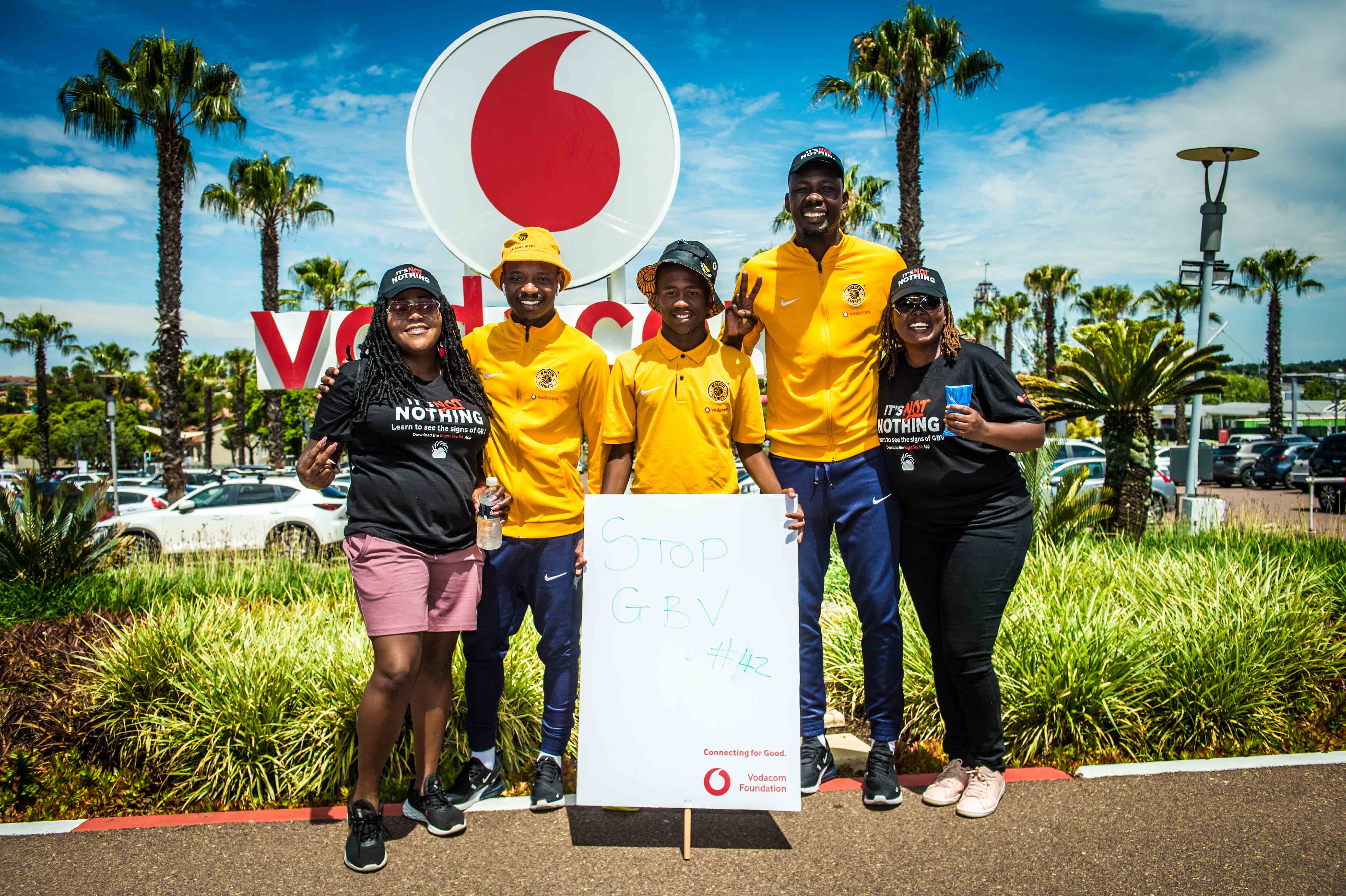 On Wednesday 7 December, more than 20 Kaizer Chiefs players from the First Team and Reserve Team squads took part in a walk organised by the Vodacom Foundation as part of the 16 Days of Activism initiative, to highlight the increase in Gender Based Violence (GBV) cases at public schools around the country. Teaming up with a large number of concerned Vodacom employees, the Chiefs contingent marched through the grounds of the Vodacom campus carrying placards displaying various messages condemning GBV. 
The purpose of the walk was to bring awareness to Vodacom Foundation's 'Change the World Volunteers' programme, which was launched in 2021 to provide psycho-social support in schools, where GBV cases have been increasing at an alarming rate.
To that end, Vodacom have launched Bright Sky, a free-to-download mobile-based app that offers a risk assessment tool for determining whether someone is in an abusive relationship, as well as services available to assist and advise victims in finding the right support to resolve their situations.
Kaizer Chiefs welcomed the opportunity to stand shoulder-to-shoulder with long-time partners, Vodacom in a visible demonstration of the strong position they hold regarding this issue.
"Events such as this are very important in the fight against GBV. It is vital to bring attention to this terrible plague in our society from a young age because, as we have seen too many times, this is not something that happens only amongst adults but is also a big problem with our youth. It is something we cannot tolerate," said Amakhosi goalkeeper, Brandon Petersen, one pf the players representing the Club.
Midfielder, Cole Alexander, also a participant, added, "GBV on any level is unacceptable, but even worse when it is happening at schools. These kids are the future of our people and no child should ever feel threatened in any way while trying to get an education. We need to do everything in our power to eradicate GBV and ensure that safety and respect for others is maintained in our school system and the whole of society at large."
For More Event Pictures Click here
Kaizer Chiefs unequivocally deplore all forms of GBV and we implore not only members of our loyal fanbase, but everybody anywhere in the world to reject violence and intimidation against the vulnerable.