Posted in News, Team News on Apr 08, 2023.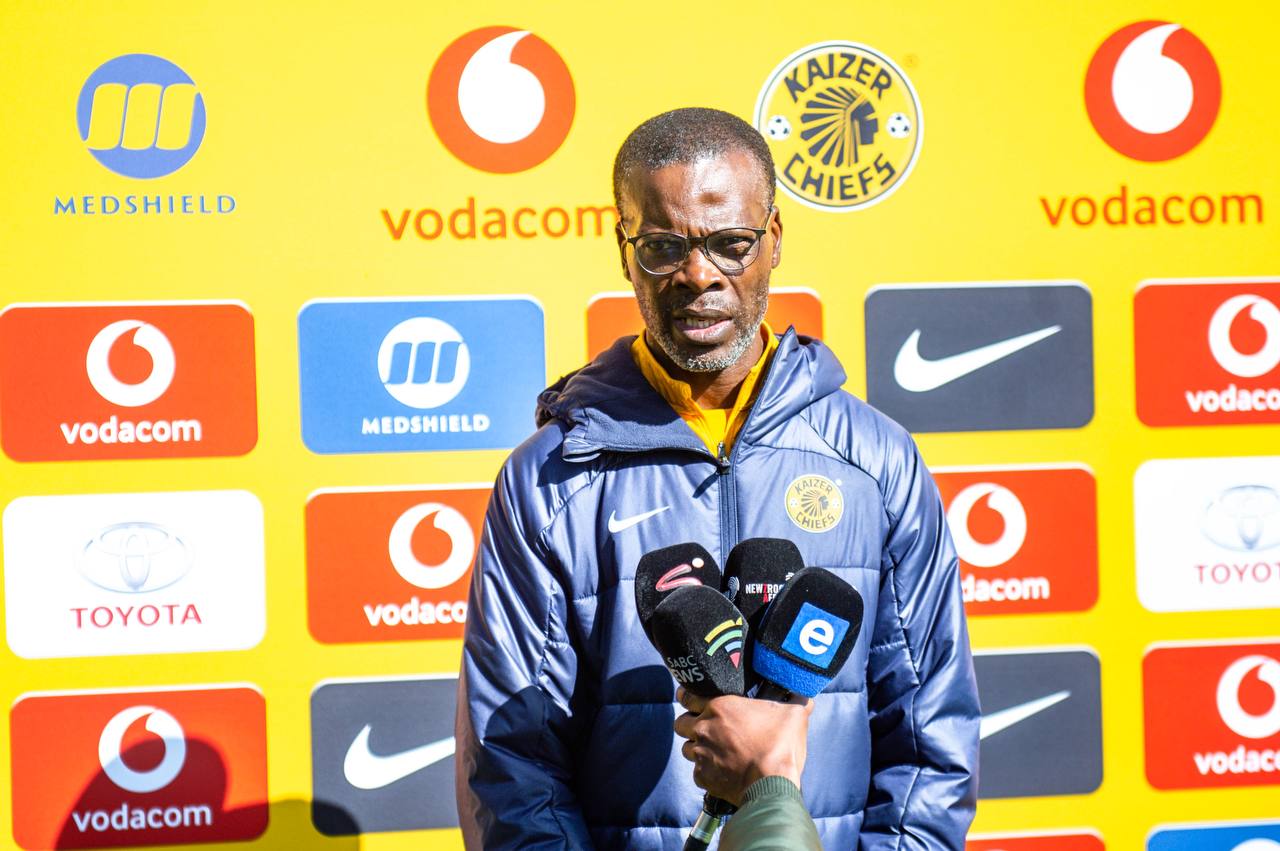 On personal expectations after a run of five straight league wins:
Personally, I know what is at stake to coach a team of Kaizer Chiefs' calibre. You are expected to get the results week in and week out. So that has always been my aim; to make sure that we get the desired results and to get things right in terms of identity. What is very important and key is to get the identity, and roping in players in a way that can also make people identify with the club – more especially those who support the club – and be able to identify and say 'this is us' when they are watching the team play.
On the team's inconsistency this season:
That has been what we are trying to work on. As I've been saying, whenever we get it right, for two or three games, we have challenges here and there that will knock us a little bit. Then, we have to start afresh again in terms of the results, because that comes with the confidence for the players to express themselves. What has been visible has been the offensive part – even though we could have done better in terms of converting our chances. As a result, if you don't score goals, you end up conceding. Those are the things that might have killed our momentum.
On the Chiefs style of play:
We are not a team that wants to kick the ball forward, we want to keep the ball and attack at the right time. But also, when the opposition try to apply the high press, we can use it to pump the ball behind them. We have players who are highly technically good, who can pinpoint the runners. That is why we are having a lot of one versus ones and causing the opposition to commit mistakes in areas where we can have dead ball situations, whether it's a penalty or it's a free kick. That has been a plus for us. As soon as we get it right in the middle of the park and also get it right at the back, where we don't find ourselves chopping and changing, I think you will be able to see the best of Kaizer Chiefs.
On finding continuity in selection:
In football, it's normal for the fact that when you have a squad of 26, 27 players how are you going to strike a balance, so that there's continuity? Unfortunately, on our side, the plan was hampered by injuries and challenges of key players, who were out for quite a long time - the core of the squad, in terms of leadership and experience. So, the responsibility was left to the young ones to lift the team and take the team forward. At some point we were going to drop points because of that, because now the responsibility is on the shoulders of youngsters who are inexperienced, when the seniors were - almost all of them - injured and there has also been a loss of form here and there.
Thoughts on the season to date:
You can look at if we've actually outdone ourselves, with all the challenges we have had. Those were challenges that gave me sleepless nights because I didn't understand where we were getting a lot of injuries at training and practice matches and quite a few in normal game situations. They were still a worrying factor, because those injuries were happening to senior, key players and now the pressure was left with the young ones to keep the team going and to make sure that we strive for what we wanted to achieve. I must give credit to these youngsters, more especially those who rose to the occasion.
Thoughts on opponents Marumo Gallants:
When you look at Marumo Gallants, that will tell you how unpredictable football can be. Unfortunately for them, I don't think they deserve to be where they are. When you watch them play in Africa they are not in the last eight by fluke, they have been doing very well. They started the season a bit slow and gradually their confidence grew. They're playing with the big boys in Africa. That alone, if you are able to sustain that pressure of travelling in Africa and grinding results there, builds your confidence and mentally. You become strong. I think they've got that strong mentality now and they believe they can survive the relegation fight. So, we are playing against wounded tigers tomorrow. They just hammered Royal AM, 3-1. at home and displayed a gallant performance on the night. You can see they're oozing confidence and believe they can beat anybody at any given time.
On the timing of the fixture with Chiefs in good form:
They are coming to us, who have won five games on the trot. I'd say they come at the right time. We need to make sure we don't give them time and space on the ball. They have very good players up front, in the middle of the park and in their defence. They've got a lot of connection and chemistry. I would be worried if they were coming here and we were still battling in terms of being inconsistent. When it comes to the results, we have been very inconsistent and we have not been taking our chances. This is what I've been saying; we've been conceding silly goals we should not have conceded, but we are also a difficult team to play against, especially when we go forward. We will punish you if you give us time and space. It's going to be a game of who is going to use the ball wisely to their advantage and who will be able to take their chances.
On the importance e of playing at home:
Playing at home we have to make sure we get the results. We don't have a choice,.We want to keep the momentum going and make sure that we make our people happy. Now its towards the end of the season, but bear in mind we will be playing a team who will be coming here fighting for their lives. If they don't get results, they're facing relegation. But that is the situation facing everyone, not only us. Other teams are in a relegation dogfight, others want to be in the top eight and at the moment it looks like it is between us, SuperSport and Pirates who stand a good chance of fighting for position two. We are gunning for that position two and we won't look back.
On the state of the Chiefs squad:
It is good to have Yusuf Maart back. We think (Siyethemba) Sithebe has played a lot of games, we're trying to manage him and also looking for a better approach for this game. We thought starting with Yusuf and Mangethe (Samkelo Zwane) will give us a plus, because we want to keep the ball in the middle and we will have Sithebe as a back-up for this one.
On possible return of Khama Billiat before the end of the season:
Khama might be available for the last three or four games of the season. We are going to have to manage him and see if he will be ready again to play.