Posted in Club News, Features, News on Aug 23, 2020.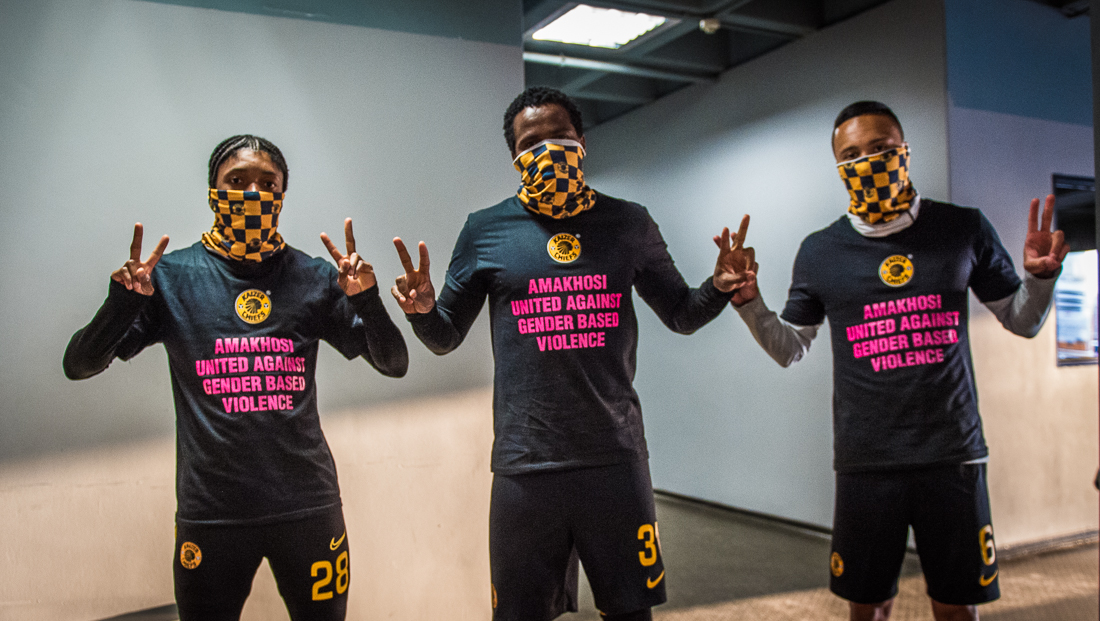 Kaizer Chiefs amplified their campaign against gender-based violence (GBV) and racism when the Absa Premiership games resumed two weeks ago, with the players wearing branded T-shirts for warm-up. The campaign will last until the end of the current season on 5 September, but it will continue via the club's various platforms.

Gender-based violence and racism have wreaked havoc in our society and the world. That's why Kaizer Chiefs continues to raise its voice against racism and all acts of violence against women and children.

"We have always stood for Love and Peace as a brand. When we see the amount of violence in our society and the injustices done due to racism, we simply cannot keep quiet," vows Marketing Director Jessica Motaung. "We therefore call for an end to violence against the vulnerable groups in the society. As a responsible corporate citizen, it is our obligation as a brand and entity to raise our voice against these unfortunate acts.

"We touch millions of people through the brand and we believe that will help spread the message. It is a joint effort and we cannot rely on the government to do all the work. We must all take a stand," emphasises Motaung,

"We are joining the many organisations and the government in their efforts to raise these important issues. If we are united, we will be able to fight this scourge of violence. We must make it our duty to report these crimes and to protect the vulnerable in our communities."

Chiefs have been stepping on the pitch wearing warm-up T-shirts highlighting Amakhosi united against gender-based violence on the front and at the back showing the text, Amakhosi united  against racism.

"We certainly hope our messages reach as many people as possible. We also hope victims speak up so the perpetrators of violence are brought to book and we can live in peace and harmony as a society," concludes Motaung. "We all must continue to raise our voice on behalf of the voiceless."

The club will soon make the T-shirt available to fans.