Posted in Features, News on Mar 21, 2022.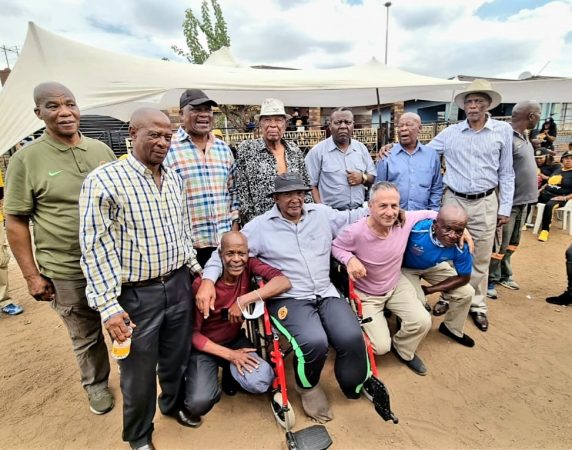 On the eve of Human Rights Day, Kaizer Chiefs' greatest gathered in Sharpeville – one of the country's most important historical sights – to recognise and honour one of their own.
The Sharpeville massacre on 21 March 1960 will go down as one of apartheid era South Africa's very darkest days, but Amakhosi's legends were there this week for much more uplifting reasons, as they honoured the club's Sedibeng region's supporters' request to join them in renovating the home of Simon 'Bull' Lehoko.
Amakhosi's best of the best heeded the call, among them Nelson 'Teenage' Dladla, Jan 'Malombo' Lichaba, Joseph 'Banks' Setlhodi, Jackie Masike, Aaron Nkosi, Joseph Mkhonza, Lucky Stylianou, Johannes 'Big Boy' Kholoane and Zebulon 'Sputla' Nhlapo, to their former teammate Lehoko's absolute delight.
Since the club's formation, its players always prided themselves on their values of equality, friendship and camaraderie, all of which remained very much in evidence as they called on Lehoko's home – to the joy of the community and Chiefs' die-hard fans.
The legends arrived to a carnival atmosphere and were warmly greeted and welcomed, with walls being plastered and painted and Lehoko's home being lovingly renovated and restored by the club's supporters. The Chiefs delegation was led by the club's Supporter Relations Manager, Cecil Motaung.
"We loved to play together and be together like we are now. We wanted to be together on a daily basis, eating together, sharing meals and memories together. We were very unique, we loved every minute of each other's company and we still do," says Chiefs founding father Setlhodi, as he explained the reason for their visit to Lehoko and the reason the early Chiefs teams of the 1970s and 1980s were so close knit and successful, as they annexed trophy after trophy.
Naturally, when they get together, they could talk football for hours, and they enjoyed going down memory lane regaling each other with tales of their days in Amakhosi colours.
Lehoko lit up as he was surrounded by friends and colleagues in his home, recalling the time in 1979 Amakhosi faced a side of British superstars including the likes of Bobby and Jacky Charlton, Bobby Moore and Terry Paine.
"Jackie and I played at number 4 and 5 that day and Bobby Charlton came up to us and told us 'we always thought South African teams are weak at the back, but you two are brilliant'," recalled a beaming Lehoko.
The irrepressible Dladla, one of the best and most entertaining players ever to wear a Kaizer Chiefs jersey, recalled how the players loved playing under the Chilean coach Mario 'The Godfather' Tuani.
"Tuani would tell us 'score your two or three goals first quickly, then you can have your 'fruit salad'. The fruit salad was us keeping possession and tiring the opposition so much that they opened up – and then we punished them even more," laughed Dladla.
"I became what I became because of Kaizer Chiefs. I am called Teenage Dladla today because of Kaizer Motaung. My main aim now is to thank him and to thank the club and that's why I am here today, with my teammates," added Dladla.
On a weekend when FC Barcelona famously won the ElClasico against their bitter rivals Real Madrid, Stylianou summed up the visit and Chiefs' ethos and compassion best, when he borrowed from Barca's famous slogan and said "Kaizer Chiefs is more than a club".