Posted in Features, News, Team News on Nov 28, 2020.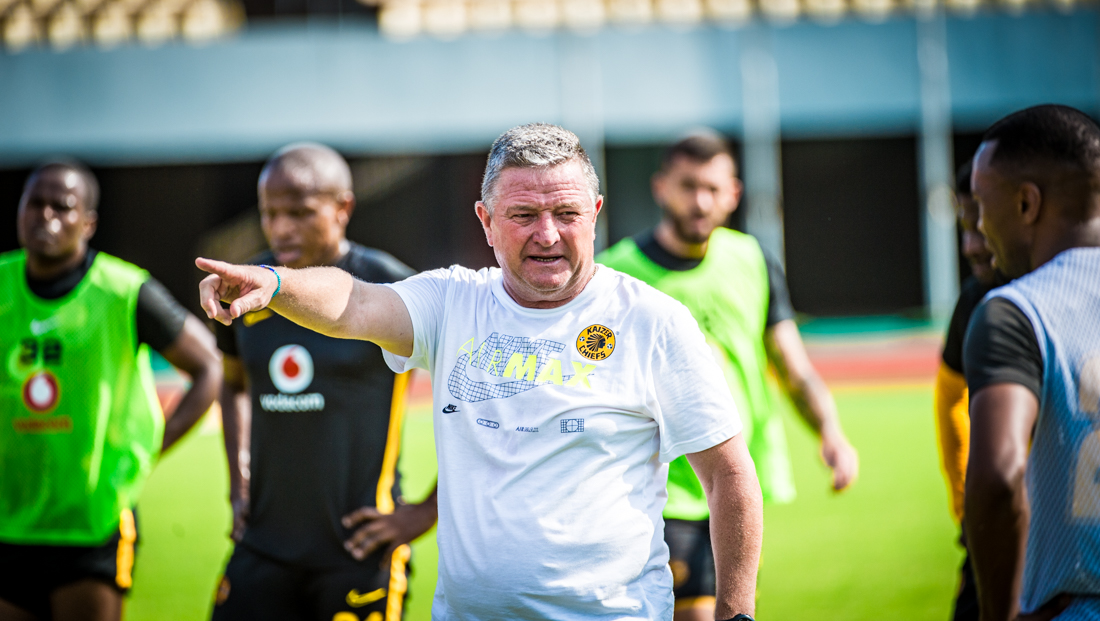 Ahead of the first leg of the preliminary round of their CAF Champions League against PWD Bamenda, Kaizer Chiefs coach Gavin Hunt and the players got to test the match venue as they practiced on Saturday afternoon. The Champions League match will take place at the Limbe Omnisport Stadium in Limbe, Cameroon on Sunday afternoon.
"We trained on Saturday afternoon just to get a feel of the pitch but didn't do much because of the heat," says Gavin Hunt. "We just needed to get the travel out of the legs. The stadium looks really great but our only concern is that the grass is too long so it will be a different type of game for us."
The team did not train on Friday after enduring a grueling 16-hour journey which included flying from Johannesburg to Addis Ababa in Ethiopia, then connecting to Douala in Cameroon and driving by bus to Limbe. Amakhosi only arrived at around 5pm on Friday at their destination.
"We are not so worried about the extreme heat and humid weather conditions because when you get into this competition you expect to play in such conditions," adds Hunt. "I am confident that the players will cope."
Defender Mulomowandau 'Tower' Mathoho is in the squad after serving his two-match suspension and is available for selection.
"We are happy to have 'Tower' back," says Hunt. "His height will come in handy because you expect to have some big players from the opposition when in West Africa. We hope to use him to deal with their big attackers."
PWD Bamenda last played an official match in March, before the league was called off and declared winners due to Covid-19. However, the team recently played friendly matches in Libya and at home.
"We've seen some video footage, but the quality wasn't great" confirms Hunt. "Also, March is too far back so we don't know what they really look like at the moment. We are aware they played in Libya in a friendly, so we just have to go to the game and do our best"
Kaizer Chiefs and PWD Bamenda will meet at Limbe Omnisports Stadium at 15:00 (16:00 SA time) on Sunday. The match will be played under Covid-19 regulations and no spectators will be allowed. Only 200 people will be allowed in the stadium as per the country's regulations.
The game will not be shown on South African television due to the unavailability of the satellite feed from Cameroon. Kaizer Chiefs' twitter platform will keep supporters informed and updated on the game and results.