Posted in Features, News on Dec 31, 2020.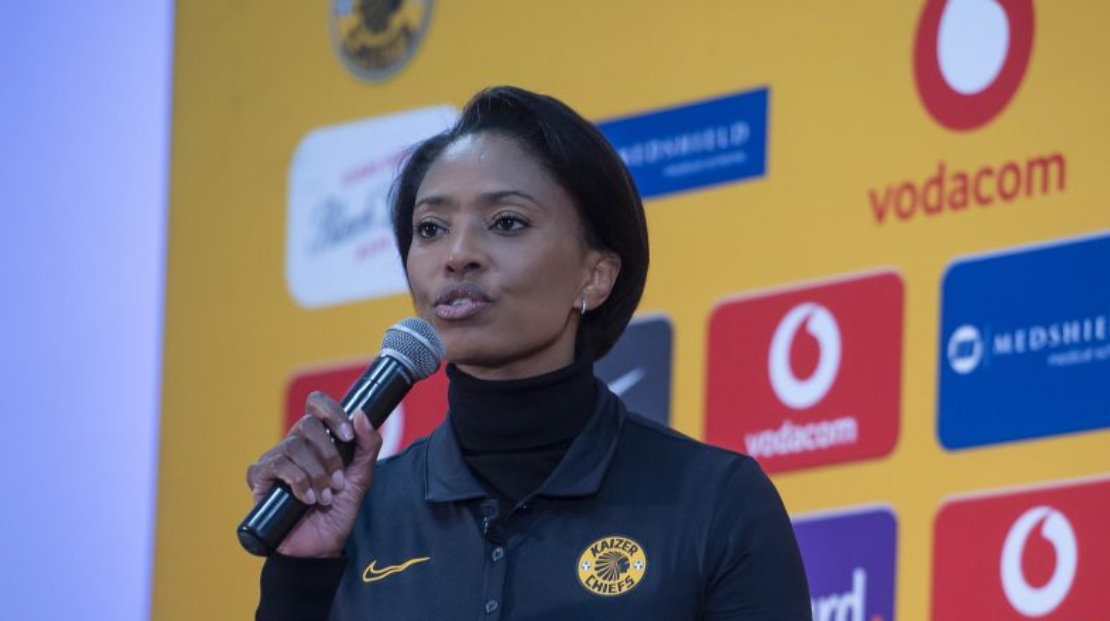 Crossing over to 2021 with hope – Jessica Motaung

The end of any year is always an opportune moment for reflection. At the start of each year we set new goals for the 12 months that lie ahead so that when it ends, we review those objectives and measure our successes, celebrate achievements, assess our shortcomings and devise fresh plans to improve and progress.

When we look back at 2020, it can only be described as extremely eventful. For most of us, this has certainly been a very different year when compared to others we have seen. The emergence of Covid-19 has changed the direction of the world and we have had to readjust our lives accordingly and change the way we normally do many things.

Learning about Covid-19 and going through the different lockdown levels from as early as March have posed huge challenges to every facet of society, and football has not been spared.

Having to stop all sporting activities as the government sought to find ways of preparing the country's health system to deal with the anticipated spread of the pandemic was unprecedented, yet something we all supported as a measure to save the lives of our citizens, many of whom are our devoted supporters.

It was important for us to work with our partners and staff during this time and it brought us even closer, despite the imposition of physical distancing.

Working methods had to change as virtual meetings and virtual training sessions became the order of the day.

 

Kaizer Chiefs in 2020

For Amakhosi, the dawn of the year started full of hope and ambition, with a host of activities planned to commemorate the club's 50th anniversary.

Being a brand that was born on 07 January 1970, we celebrated the day with a great event in Phefeni with former players, staff, players and the local community.

This was the first of many celebrations planned for the year around the country.

The following day, fans enjoyed free entry to FNB Stadium, as well as birthday cake, before watching the team fittingly pay homage to their predecessors of half a century with a trademark Kaizer Chiefs performance in an emphatic victory over Highlands Park to cement their position atop the league table.

Another major highlight was to launch our 50th anniversary jersey. The classy black top with gold trim proved sensationally popular and sold out completely within a few days. The huge demand that followed, however, could not be met due to the limited-edition nature of the release.

A full programme of celebratory events were to had been scheduled for the remainder of the year, including international matches against top sides for our current team and "Legends" exhibition matches involving Amakhosi heroes from days gone by… but when Covid-19 struck, all these grand plans had to be put on ice.

Not playing football for five months was tough. Our players struggled to adjust mentally to the disruptive conditions. Still though, we are thankful that the PSL made it possible to complete the league season, albeit late.

Playing in the Bio-Bubble without supporters was a surreal experience, particularly for a team that is used to having the "12th player" behind them. Suddenly, the throngs of supporters we've always had for years were no longer there. This was not easy to reconcile and had a huge impact on the players.

Ultimately it was heartbreaking to lose the league title race late on the final match day, with barely 19 minutes remaining of the entire season.

The FIFA ban on signing new players was another setback for the club but these challenges forced us to go back to basics and remember who we are and how we got to where we are. We shall continue to put faith and trust in the squad that did well for us last season and use the situation as motivation to do even better going forward.

On the positive side, our return to continental football is a meaningful consolation and we look forward to representing the country, together with three other clubs, in CAF competition in 2021.

We celebrated another milestone with the purchasing of the land near the chairman's home, where everything started for Kaizer Chiefs. The community can continue to use the facility for recreational purposes, and we will make more announcements regarding the property in due course.

We continue to learn, and believe things will get better as we move into the new year.

 

Sponsors and partners

We are grateful to all our partners who remained with us and continue to do so in these trying times. Thank you to Vodacom, SuperSport, Nike, Medshield, Toyota, Kaelo, SMSA, Carling Black Label, Moses Mabhida Stadium, Mbombela Stadium for the unwavering support. We hope to continue working as closely as we always have, and we certainly wish a better year for all of them in 2021 and beyond. Let's do more as we connect with our supporters and continue to support and build each other as partners.

We would also like to thank our licensees who produced some great products for our supporters.

 

Supporters

Our Supporters have always been our pillar of strength. Together we have gone through the full spectrum of emotions in 2020 - from starting the year with celebrations and almost filling up the FNB Stadium against Highlands Park, to leading the log comfortably for virtually the whole season and eventually losing it right at the death, just as we were getting ready to celebrate.

The adjustment to the Bio-Bubble and playing without supporters has surely led to our dip in performance because supporters are an important part of how we play. Thing just didn't feel complete without them. When we speak of the "12th man", we truly mean it.

We certainly hope 2021 will be kinder to us and we are able to return to stadiums, roadshows and other activities at some point. We believe there is a lesson to be learned in every event, and we all derive valuable lessons in all situations. We have realized is solely reliant on our behaviour because only we, as the citizens, can help eradicate the pandemic.

For now, we continue to engage with our loyal fanbase on social media via Twitter, Facebook, Instagram and YouTube.



Kaizer Chiefs Personnel

Our staff have had to adjust to new ways of working and it has not been easy for any of us. We are thankful for the efforts that everyone is continuing to put in. Let's keep on working hard to ensure that we reach new heights. Everyone from security, players, admin staff, marketing, football, retail, supporters club, cleaners, coaches are all important to the organization.

Let's continue the passion and represent the brand as proudly as we've always done. We owe it to the millions of supporters who are there with us through thick and thin.



The Board

We would like to thank the board led by the Chairman for the all their efforts and work to ensure that we do our work as seamlessly as possible through the pandemic.

We wish you good health and strength in 2021.



Lost ones

In our industry we have had to bid farewell to some of the country's most prolific and talented journalists, some of whom succumbed to Covid-19. We mourn their loss and will always remember them:

Experienced journalist and editor, S'Busiso Mseleku, who was part of our 50th celebrations in Phefeni in January, sadly succumbed to Covid-19. We had hoped collaborate closely with him in writing the club's history.

Another great friend of Amakhosi who worked with the Chairman in the late 60s and 70s, giving advice and writing about Kaizer Chiefs even though he was more of a boxing writer, was Leslie Sehume. This writing pioneer's passing really touched the Chairman and we appreciate all the work he did during his 84-year journey on earth.

Louis Mazibuko was another great sport writer we lost in 2020, and we recognize him for his immense contribution to sporting journalism throughout his career.

In these men, we not only lost great writers of sporting history, but we lost staunch Kaizer Chiefs supporters.

Experienced sports photographer, Lucky Nxumalo of News24, also passed away recently. May he rest in peace.

Rollaway Ndlovu and Nicky Shaw are two of our former players who left us. Their contribution to Kaizer Chiefs will never be forgotten. We also lost a former coach in Joe Frickleton. Joe was in charge of that successful team on 1984.

Our staff member Sis Thembi Elsie Zwane after a long battle with illness.

A young soul of James MacFarlane also departed. He was part of our development. Our thoughts go out to some of our staff members who lost their loved ones.

We also say Rest in Peace to Ntate Mike Mokoena of Free State Stars. Bra Mike has played a key role in our football and we should never make the mistake of erasing or incorrectly documenting the pivotal he role he played.

Some of our supporters have also left us, and we have noted all their names via our supporters' club. We convey our deepest sympathies to the families and pray for their strength.

Most importantly, we want to thank the brave men and women in the health sector who lost their lives in the line of duty due to the pandemic.

We will miss you all.



Helping hand

In this time of difficulty for many it is imperative that we extend a helping hand to those in need during this time and, to this end, we worked closely with Multichoice and Orlando Pirates earlier in the year to donate PPEs to the health workers via to the ministries of health and sport.

We also worked with the Kaizer Motaung Jr. Foundation, which traversed the country donating food parcels and clothing and blankets to the needy.

As a nation, it is incumbent on those with means to lend a helping hand and provide much-needed assistance to those in need, especially during this time, and we shall continue to contribute where and when we are able.

As the saying goes: "To whom much is given, much is required".

 

The Pandemic and a better 2021

We have recorded the highest-ever infection numbers during this festive season. This is largely a reflection our social behaviour as South Africans. We must do better and help the government and the hardworking health workers, who risk their lives to care for us. The health system is strained, and we need to do more to help prevent hospitals being overwhelmed.

Let's avoid 'super spreader' events, let's sanitise regularly, wear masks all the time when in public, and stay home.

Together we can beat this monster that is the coronavirus.



In closing, I'd like to say that we need to remember that nobody is safe until we are all safe. Together we can make a difference and change the situation for the better for everyone.

It's okay to miss parties. It's okay to not go out, it's okay to be with family. This will help curb the number of infections and free up space in hospitals.

May God protect each and every one of us and may the year 2021 be a better year for all of us.

Amakhosi 4 Life!