Posted in Features, News on Jan 06, 2023.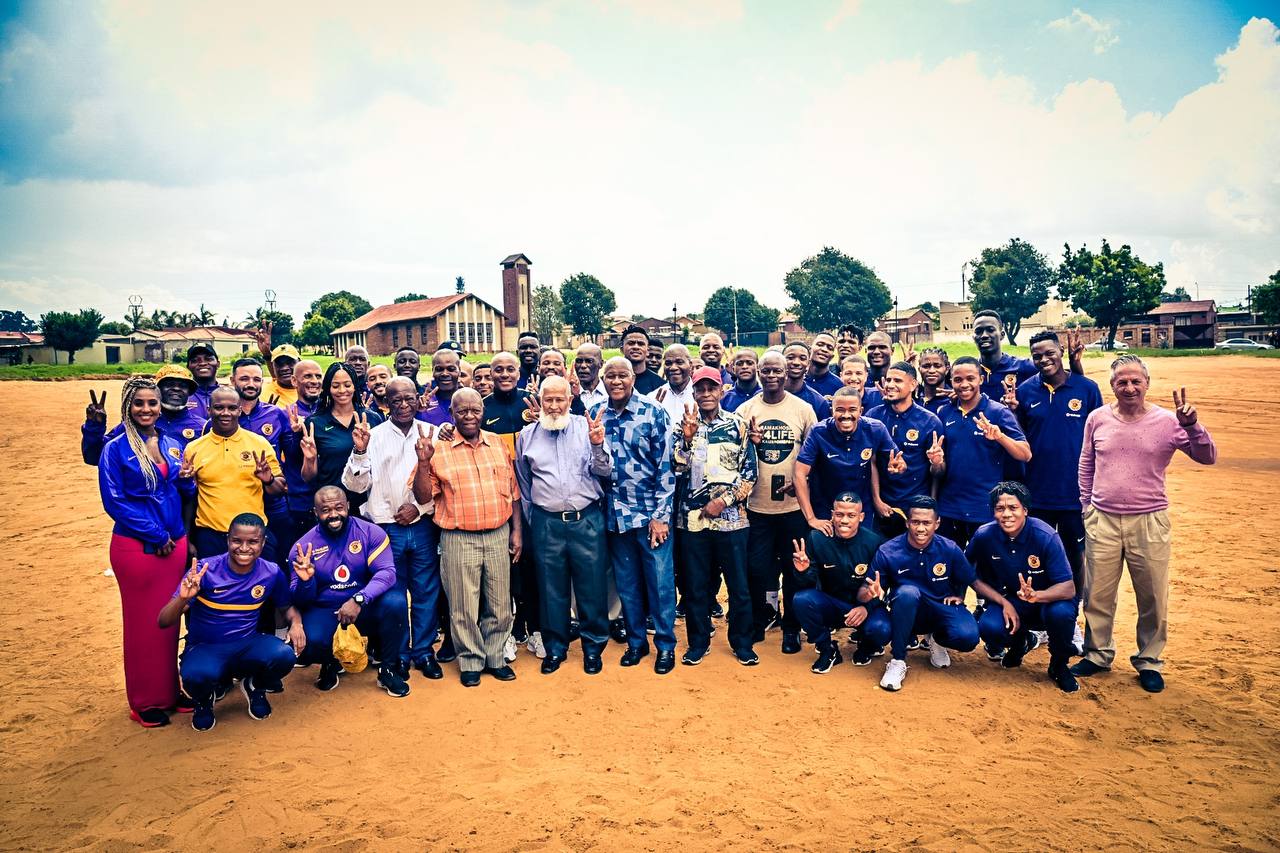 On the eve of Kaizer Chiefs' 53rd birthday the first team were given the best possible gift - a personal invitation, welcome and tour of Amakhosi's spiritual home in Phefeni, Soweto, by Chairman, Dr. Kaizer Motaung, and some of the Club's iconic legends.
Amakhosi's birthplace at 8414 Sentso Street in Orlando East holds huge significance for the Club, as the family home of the Chairman and first training ground of the Kaizer XI, and early Kaizer Chiefs teams, since the Club's formation in 1970.
Around the Club's birthday, this hallowed ground takes on even greater meaning, so it was poignant that as the team bus stopped on the famous sandy pitch, once graced by its mythical icons of old, that the modern-day Chiefs players were met by Dr. Motaung himself, as well as legendary figures Joseph 'Banks' Setlhodi, Johannes 'Big Boy' Kholoane, Paradise Legodi, Lucky Stylianou and Marks 'Go Man Go' Maponyane.
"Welcome to this humble home. The idea to bring you here is to make you feel and understand where it all started for Kaizer Chiefs and to see where we come from. And for the legends, who laid the strong foundation we are standing on, to tell you their stories and how we started on this journey," Dr. Motaung told the attentive players.
"The Phillies Games you saw recently is exactly what we had here on this ground. None of us, when we started here, had any idea of the magnitude of what we started, building a brand loved by millions and followed the world over. We welcome you and appreciate your input. You are now part of this journey and history will have you in the archives, contributing to a brand millions of people have benefited from," added Dr. Motaung.
The Chiefs Chairman said Kaizer Chiefs and the Phefeni ground were dedicated to the service of the community, which continued to actively use the space, and that the Club's intention was to develop the land to provide a world-class facility that will continue to service the community for generations to come.
Amakhosi players, many of whom were visiting the special home for the first time, were in awe as they were regaled by stories from Setlhodi and Kholoane of their exploits on the Phefeni pitch and how players would camp at the home before games, with the Chairman, Setlhodi and players like Patrick 'Ace' Ntsoelengoe and Johnny 'Makgwegwe' Mokoena sharing a bed in the family home, lovingly cared for by the Motaung family.
There was tremendous camaraderie amongst the early Chiefs players, with Setlhodi amusing the players with the story of how after Stylianou scored a stunning long-range goal against African Wanderers early in his Chiefs career, he and Ntsoelengoe joked with Stylianou that if he wanted to be a fully-fledged Chiefs player he needed to buy them "a goat, a bottle of Scotch and a case of beer".
"We used to joke around a lot with each other and share things, and that's why even today this team is a family, it's unique. I am happy to see you here, wanting to know about where the Club comes from and to see what was the foundation of the Naturena where you guys are now training," Setlhodi told the players, adding that in the early Chiefs days "we did not win cups, we took them, it was so easy" as he urged them to write their own Chiefs legacies of success.
Legodi told the players "playing for Chiefs changes your life, your family's life and that of your community".
"This is my extended family and I am always home here. Life is easier when you play for Kaizer Chiefs. Respect yourself and value the jersey and people will respect you," he said.
For players like George Matlou, who grew up in Orlando and who honed his skills on the dusty Phefeni ground, it was a special homecoming, while for players like Keagan Dolly visiting Phefeni was deeply meaningful.
"It was great to be here to see where it all started for the Club," he said, adding, "For most of us, it was our first time here and it makes you get a newfound appreciation for everything you have at the Village. Listening to the history of the club from the legends also impacts how you carry yourself, knowing the rich heritage you represent."
The Chiefs Chairman said it was the continuation of a process of getting the club's legends to interact with the first team and to "connect this big family" on a more regular basis.
Stylianou said the match against Sekhukhune United on the club's 53rd birthday at FNB Stadium on Saturday night would be "a wonderful time to get a victory under the belt to celebrate the Club's birthday".