Posted in Features, News on Apr 11, 2022.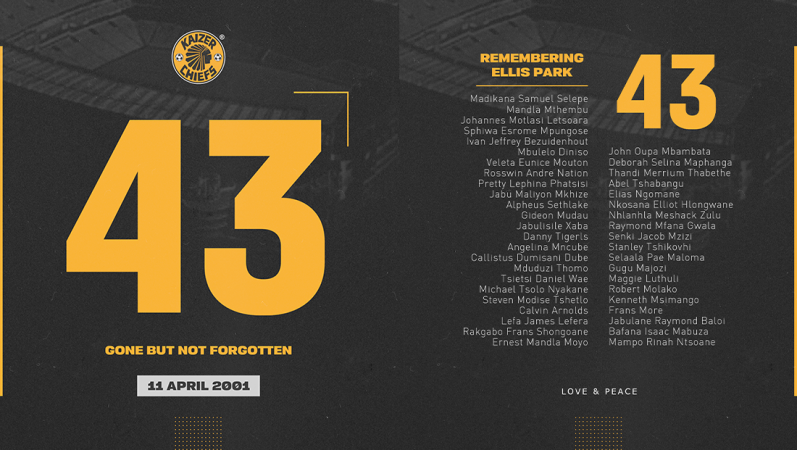 For the past 21 years, 11 April is a date that brings back very sad memories to everyone connected with Kaizer Chiefs, Orlando Pirates and the South African football community at large. On this unforgettable date, 43 football-loving supporters tragically lost their lives during a Soweto Derby hosted at Ellis Park Stadium in 2001.
"It is truly a day that remains in our hearts," says Kaizer Chiefs Marketing and Commercial Director Jessica Motaung. "While we reflect on the day, we continue to convey our condolences to the families of those who perished in the disaster. We have tried to honour their legacy – and those from the 1991 Orkney tragedy – by heeding the bitter lessons we learned in our quest to avoid the recurrence of anything of that nature."
It was an appropriate time for supporters to return to stadiums following the lifting of the ban as a result of the Covid-19 restrictions that were put in place in 2020.
"It was heart-warming to see some fans on the eve of the 21st commemoration of the Ellis Park disaster back on the stands after such a long period. The journey has not only been tough, but it gave us an opportunity to learn and appreciate the role played by supporters. The game really struggled without the fans and their absence showed how important they are to football, and sport in general. It is therefore incumbent on us to ensure that they are safe when they attend matches. We also call upon supporters to adhere to all the security protocols to avoid any unwanted events that may occur due to non-compliance with the security regulations," says Motaung.
Kaizer Chiefs will welcome supporters for the first time in two years on Saturday when they host SuperSport United at FNB Stadium.
"As we prepare to have supporters back in the stadium this coming Saturday, we remember all those who lost their lives on 11 April 2001. This morning at the Kaizer Chiefs Village the Club staff and players will observe a moment of silence in remembrance of those who left us that fateful day. We will continue to pray for the healing of those who lost their loved ones and let them know that we shall never forget," says Motaung.
Once again, the Kaizer Chiefs Family extends its deepest sympathies to the bereaved families and wishes that the departed continue to rest in eternal peace.