Posted in Features, News on Mar 23, 2023.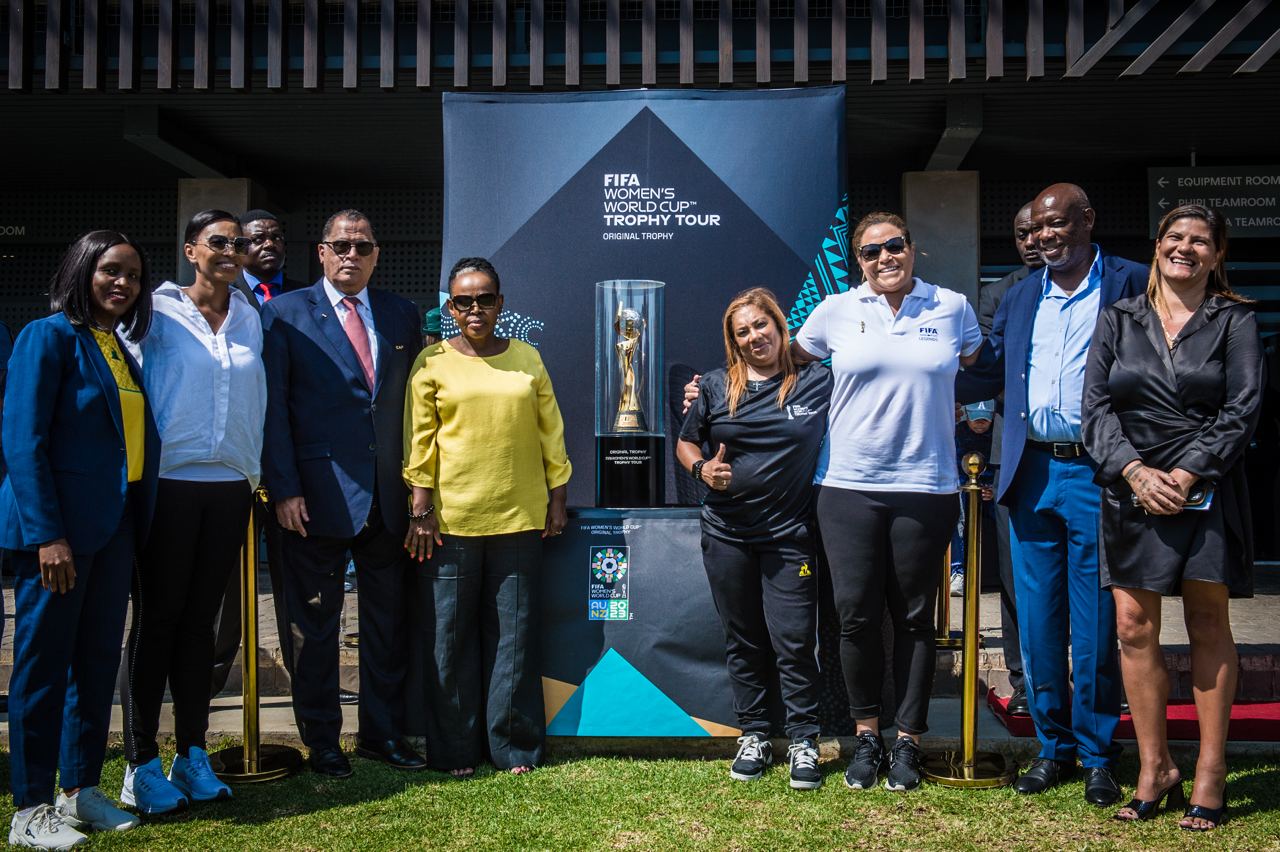 Kaizer Chiefs Marketing Director, Jessica Motaung, was among those who welcomed the FIFA Women's World CupÔ Trophy when it made a stop at Pimville's Shapa Soweto Centre this week on its global tour of the 32 countries that have qualified for the 2023 edition of the tournament, being held from 20 July to 20 August in Australia and New Zealand.
The coveted golden trophy was in Morocco's capital city, Rabat earlier in the week, before arriving in South Africa for stopovers in Soweto and Vosloorus. Its next port of call will be Lusaka's Mulungushi International Complex Centre in Zambia on Friday, followed by Abuja in Nigeria on Sunday, to round off visits to the four African representative at the showpiece event.
A host of football legends were on hand as the trophy toured Soweto, among them Banyana Banyana coach, Desiree Ellis, and captain Andile Dlamini, who participated in a coaching clinic for 500 young girls which coincided with the trophy tour.
Representing FIFA on the Trophy Tour was 1999 United States FIFA Women's World Cup winning goalkeeper, Saskia Webber.
For Motaung, who is a member of the Confederation of African Football's Organising Committee for Women Football's Standing Committee, as well as a member of SAFA's Women's Football Committee, the visit of the trophy to the African continent was hugely significant.
"It is exciting, significant and very important to see the FIFA Women's World Cup trophy on the African continent. It is important for the young girls who are here to see the trophy up close and in their faces, so that it can serve to inspire them to represent their national team and to dream of also competing for the right to win this trophy one day," she said.
It is the first time 32 countries will take part in the finals of the FIFA Women's World Cup and Motaung expressed her excitement at the participation of CAF's four representatives at the tournament.
"We are looking forward to our four African teams representing us with distinction in Australia and New Zealand. As a member of CAF's Women's Football Committee, I am extremely proud to see the hard work that has been done by all four teams in preparing for the tournament," she added.
Morocco and Zambia will make their debuts at this year's tournament, while Nigeria's Super Falcons will be participating for a ninth successive time.
Banyana will make their second successive appearance, with former national team captain, Ellis, becoming the first African coach to lead her country to two editions of the FIFA Women's World Cup.
"We know what is at stake and we know what we need to do. We will work on first getting out of the group stage and, after that, anything can happen in the knockout stages. We have put in the work and believe we can give a good account of ourselves at the World Cup," said Ellis.
For US soccer veteran Webber, who is co-owner of the Angel City professional team in Los Angeles which kicks off its season in the National Women's Soccer League this week, it was her first trip to the African continent.
"There's nothing like it and no better feeling than touching the FIFA Women's World Cup trophy. There is no reason that the trophy can't keep coming back here to the African continent, and for an African nation to win the tournament. The sky is the limit, and seeing the trophy should give African football fans even more reason to cheer for their countries and to dream that one day their country too could become world champions," the former World Cup- winning goalkeeper said.