Posted in Features, News on Jul 23, 2022.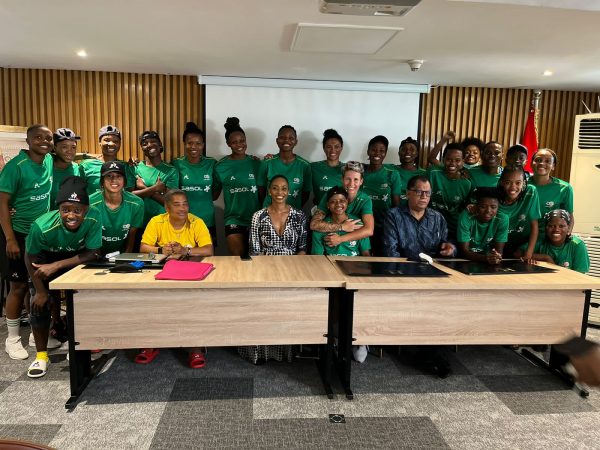 Kaizer Chiefs Marketing and Commercial Director, Jessica Motaung, took time out of her schedule to visit the Banyana Banyana camp in Morocco on Saturday afternoon, hours before their historic Women Africa Cup of Nations (WAFCON) gets underway against the host country in the capital city, Rabat.
"We are all behind our ladies who have done us proud by winning all their matches to reach this year's Wafcon final," she said. "President Danny Jordaan and I met with them and enjoyed lunch with the ladies. The energy in camp was vibrant and electric. We encouraged them to do their best and to know that almost 60 million South Africans are behind them and eagerly waiting for kick-off."
Motaung is in Morocco on duty as a member of CAF's Organising Committee for Women's Football Standing Committee.
"With all the challenges we face in our country, we need a bit of good news and Banyana have given us that over the past few weeks. We are now looking at the last hurdle and believe coach Desiree Ellis will help the ladies deal with the intimidating atmosphere here in Rabat," she adds.
On Thursday, Motaung was also present to see Banyana coach Desiree Ellis named 2022 CAF Coach of the Year (Women) for the third time in a row at the CAF awards ceremony, which was preceded by an historic legends match where a team of Moroccan football greats from past eras took on a side of former stars from the rest of Africa.
"Well done to coach Desiree for the award," comments Motaung. "I told her that I believe that the team will ensure she wins again next year for the unassailable fourth time by lifting the trophy against Morocco."
Banyana Banyana, currently ranked 58th in the world, are looking at winning the tournament for the first time ever.
The game will be staged at the sold-out 53 000 seater Prince Moulay Abdellah Stadium in Rabat. Kick-off is 10 pm in South Africa.
Kaizer Chiefs wishes our senior women's team all the best for the final.