Posted in Features, News on Mar 30, 2023.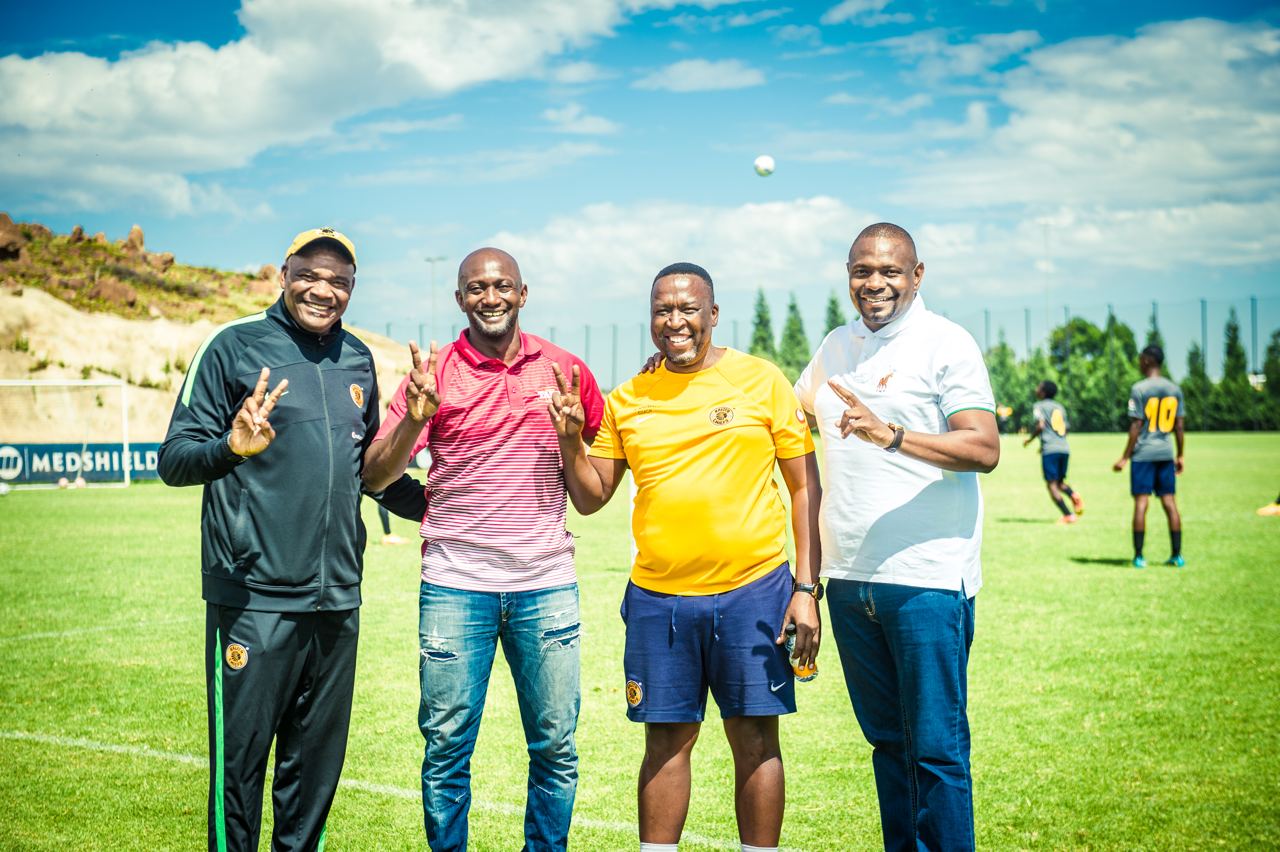 Namibia national team coach Collin Benjamin stopped off at Naturena for a meeting with Kaizer Chefs Sporting Director, Kaizer Motaung Junior, and Chiefs' Head of Youth and Technical, Molefi Ntseki. A day after his team moved to the top of Group C with a memorable 2-1 victory over mighty Cameroon in a 2023 CAF Africa Cup of Nations qualifier at the Dobsonville Stadium
Benjamin was warmly received by Motaung Junior, who applauded his team's win on Tuesday against the Indomitable Lions, saying, "it was a powerful win for Namibia against Cameroon they have some good players and well done to them".
On the coach's visit to the Village, he added, "it was a pleasure for us to welcome Collin and we had a really interesting discussion. It is important for us to collaborate with different teams from around the continent. We can get a lot out of collaborating with coach Collin and his team. Namibia have players in the PSL doing well and we have had players from there in the past, so we know the kind of quality players they do produce."
For his part, Benjamin was happy to have had the opportunity to visit the Chiefs village, "I am so impressed with the facilities and what has been built here in Naturena. It is inspiring to see. Hopefully, the targets that we want to reach with Kaizer Chiefs in terms of co-operation and exchange will materialise soon".
The coach was also complimentary when speaking about the love that exists for Chiefs in Namibia.
"I would not be lying if I said that half of Namibia are Kaizer Chiefs fans. Me, myself, watching Doctor Khumalo, Thabo Mooki's and all our countrymen playing here, I had to support Chiefs", he reveals.
Amakhosi have had a number of Namibian players turn out for them included a Herman Blaschke, Pius Eigowab, Robert Nauseb, Mohamed Auseb and Virgil Vries.
Benjamin concluded his talk with www.kaizerchiefs.com by praising his players, who have put their country on the verge of qualifying for the AFCON saying, "After yesterday, we are all happy and proud. The team did very very well and the preparations for the next game starts from tomorrow".
Namibia's next game in Group C will be an away assignment against Kaizer Chiefs striker, Caleb Bimenyimana's Burundi, in June. Namibia need only a point from the game while Burundi must win to have any chance of reaching the finals.