Posted in Features, News on Oct 13, 2023.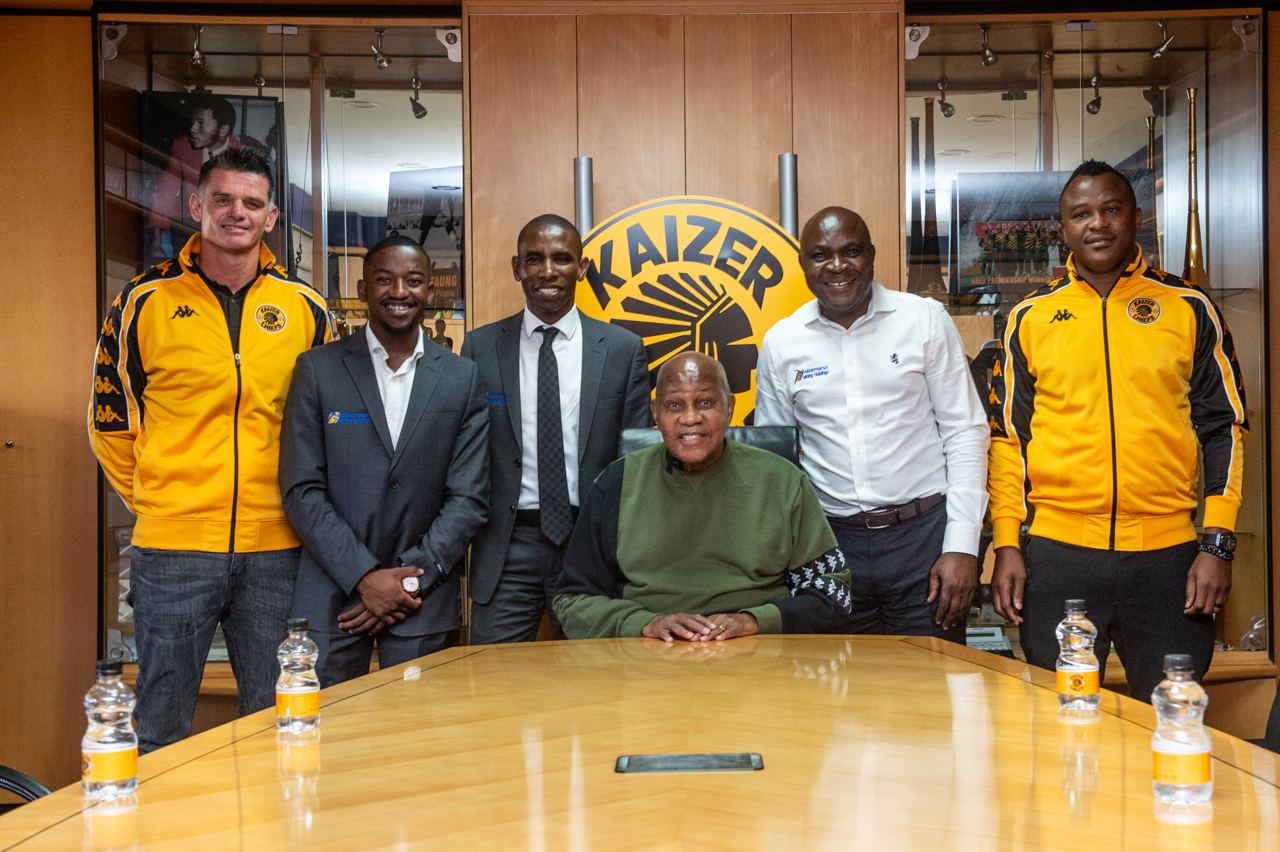 Kaizer Chiefs Legends will take on their Orlando Pirates counterparts at the Pumas Rugby Stadium in Emalahleni (Witbank) on Saturday afternoon in the Masemanzi Mining Holdings 12 year celebration game.
On Thursday, representatives of from the company were warmly received at the Kaizer Chiefs Village by Amakhosi's Executive Chairman, Dr. Kaizer Motaung in anticipation of the game in Mpumalanga.
The Chairman praised the people involved in setting up the match, saying, "I thank the organizers for setting up these games and it is important for our legends to be active and continue to feature for the team," before predicting an exciting encounter, reminding the audience that "a game between Chiefs and Pirates is never a friendly and is also good sporting spectacle for the fans and those involved."
Chairman of Masemanzi Mining Holdings, Sihle Manzini, expressed his delight at staging this event to celebrate their 12th anniversary.
"We welcome the Kaizer Chiefs Legends team to our town for this game. We are happy to host them and provide the people of our town with the chance to be part of a Soweto Derby game, we have never hosted a game like this previously and believe it will be an excellent spectacle," he said.
For Amakhosi's Marketing and Commercial Director, Jessica Motaung, this game offers the Club the opportunity to continue reaching out to their fans in different parts of the country, saying "In recent months our legends have played games in towns where the first team do not feature. We are pleased to be able to connect with fans in different towns and would like to show our appreciation to the organizers for taking us to Emalahleni, a place where we have not played for a while."
Chiefs Legends co-coach, Thabo Mooki is ready to take his place on the bench once more and is eagerly looking ahead to being part of another derby game.
"We won against them a few months ago in Malamulele and we will try to defeat our Pirates counterparts again. We have a strong team, and we have some new inclusions,' he says adding, "We are happy to always get the guys together and play these games. We will be looking to give our fans in Emalahleni a good memorable game."
The match will kick off at 15h00 on Saturday, 14 October. All tickets for the game have been sold out.
Kaizer Chiefs Legends Squad: Brian Baloyi, Rowen Fernandez, Cyril Nzama, Nhlanhla Kubeka, Tsepo Masilela, Morgan Gould, Derrick Spencer, Siyabonga Nkosi, Stanton Fredericks, Jabu (Pule) Mahlangu, Siphiwe Tshabalala, Mandla Masango, Josta Dladla, Frank Makua, David Radebe, Siyabonga Nomvethe.
Coaches – Thabo Mooki , Doctor Khumalo