Posted in News, Team News on Apr 15, 2023.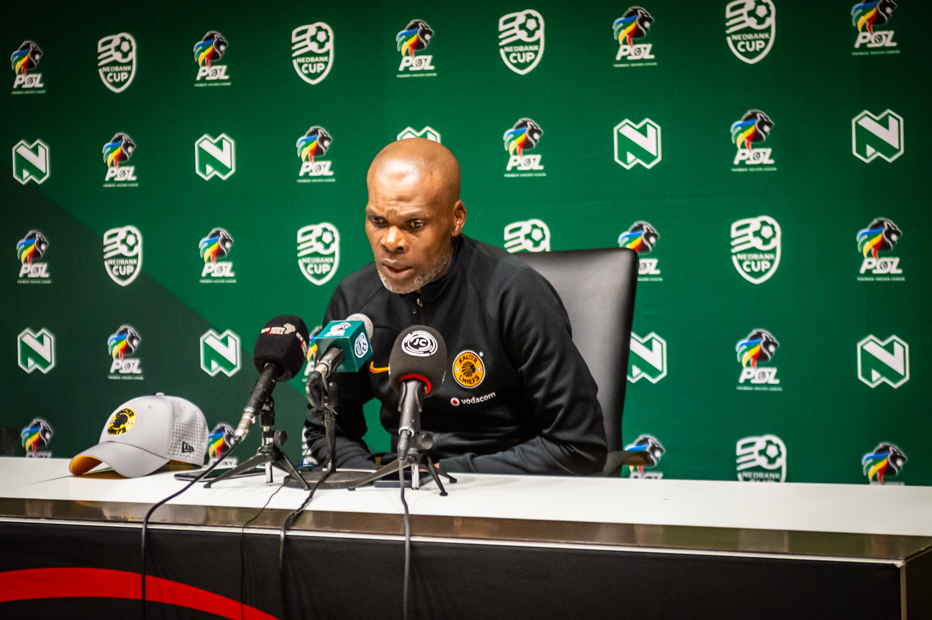 Kaizer Chiefs will leave it all out on the pitch in their effort to overcome Royal AM in Sunday's Nedbank Cup quarterfinal, according to coach, Arthur Zwane. The two teams meet in Chatsworth for a place in the last four of South Africa's flagship knockout competition.
Zwane anticipates nothing less than a Battle Royale against a team that has posed problems for Amakhosi in the past, although Chiefs prevailed in the most recent encounter in the league.
"I think we all know we are playing against a team that has been very difficult to play, more especially for us in the past two seasons," Zwane said at the pre-match press conference, "So we are not expecting an easy game and we are playing away from home. They won their last game, 3-1, and that alone tells you the depth they have in their squad and they will also want to progress to the next round of the competition."
The match presents Chiefs with an opportunity to move a step closer towards a shot at the last trophy on offer this season, the significance of which is not lost on Zwane, who stated, "We are planning to go all out. We are not going to hold back because this is a perfect opportunity for us to go through."
The coach maintains that plotting such an outcome requires meticulous attention to detail with regard to both his own team and the opposition.
"There are no easy games," he said. "Whether you are playing against a big team or one of the so-called smaller teams. In actual fact, there are no longer any small teams. All the games are difficult and what is key is to plan accordingly and make sure you profile the opposition properly."
Ina one-off cup tie there are no second chances and Zwane has been adamant in his call for his players to take better advantage of their opportunities.
"We don't stop working hard. There are a lot of positives, as I have been saying. It is better to create chances (and not convert) than not create them at all. It gives us ne task to focus on, to become more clinical in front of goals. We will keep working on that aspect to ensure that we take our chances." He said.
On the flip-side, Zwane has also been hard at work with his defensive unit to improve concentration and eliminate some of the unforced errors that have proven costly.
"When you start conceding goals you shouldn't be conceding , you panic a little bit, more especially when it becomes a habit. It is normal for any human being, when he's in a situation he's trying to avoid, and when you are working hard on trying to avoid those things at all cost, and they keep haunting us, keep happening, this can play on his mind," he said, "But, mistakes are part of the game and you will always find yourself in that situation when you are trying to do something right that you think can help the team, and it doesn't work. We are working with the players to teach them to enjoy the game more. We don't want them to panic. We just try to minimise our mistakes. We still want to keep the same character and we'll keep working on it because, at this level, you can't continuously make the same mistakes time and again."
It is well known that the longer Amakhosi's wait for a major trophy goes on, the more the tension increases among the supporters and, as someone who experienced the pressures of being a Kaizer Chiefs player, Zwane is well positioned to assist them in coping with the demands.
"We try our level best to calm the players' nerves ahead of the game. We can only control the space we are in but players are also people and they go home and there is a lot of football talk around them. Their loved ones are very supportive but also expect them to perform at their best every game so that part alone brings a lot of pressure to players because they hear what people are saying, and unfortunately we cannot control that space. Also, I am aware that different players come from a variety of backgrounds and each person has his own way of dealing with pressure so we try to make sure everyone is feeling positive," he concluded.