Posted in News, Team News on Sep 21, 2022.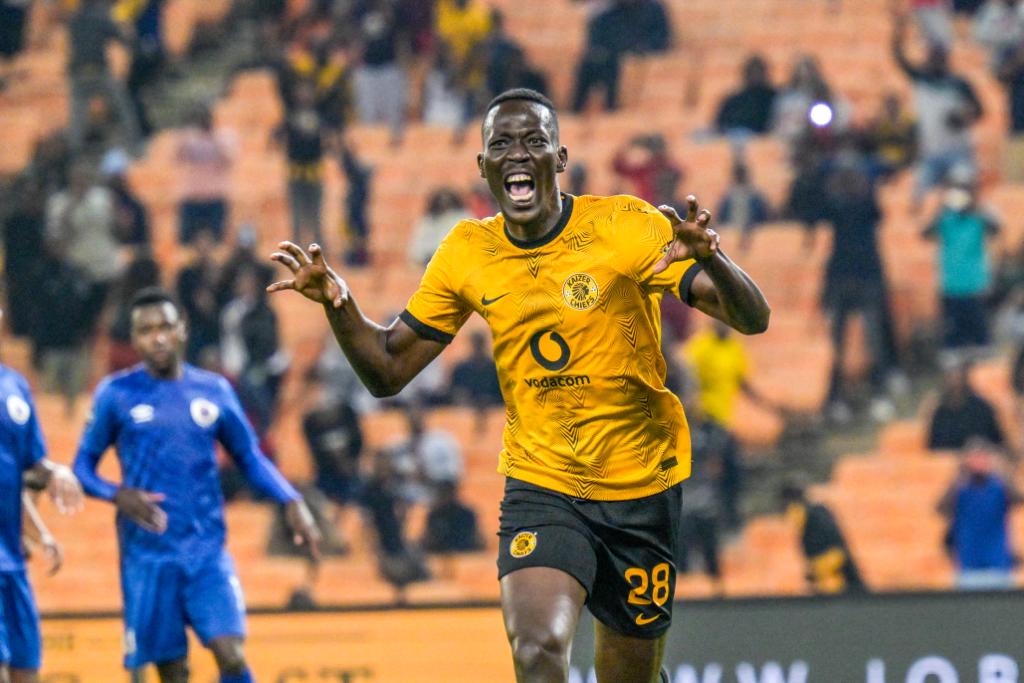 To say there were a few raised eyebrows among Kaizer Chiefs supporters when it was announced that the Club had signed striker, Bonfils-Caleb Bimenyimana, would not be an understatement. The strapping Burundian international was something of an unknown quantity when he arrived at Naturena shortly before the beginning of the season, knowing he would need to convince the Amakhosi faithful of his goalscoring credentials, yet thrilled to join one of Africa's foremost football Clubs.
After two substitute appearances, Bimenyimana got his first start in last weekend's crucial clash against SuperSport United and made his first major contribution to the Chiefs cause by scoring twice to reverse a one goal deficit into a 2-1 victory, thereby securing three valuable DStv Premiership points.
"I was excited for my first home game and my first start for Kaizer Chiefs because it is a target for me to stay in the team and work hard and keep on going," he said, reflecting on his ambition to make his mark at the Club.
With Matsatsantsa holding the upper hand in the early exchanges, Bimenyimana cut a frustrated figure at times after failing to convert the half-chances that came his way.
"In the first 20 minutes it was tough for us and there were a few moments when I could have done better," he admits, "But that's football, and the more you try, that's how you manage to get goals so I was keeping my head up, thinking I will score anytime because I have confidence in myself and I was looking at how the game was going and saying to myself that I'll get a chance again and when it comes, I will score. When I scored the first goal, I thought, 'I will have to go for the second one'."
The fans were introduced to some elaborate goal celebrations by their new centre-forward, who clawed his way along the turf like the predator he had just shown himself to be after netting the equaliser before imitating a buccaneer after scoring the winner.
"My first goal celebration was the 'black panther.' I have been doing it since I was young with my brother, who plays in Turkey for Istanbul Baseksahir. Even for the second one it was for him because in the morning I talked to him on the phone and he told me, 'Today, you're going to score and you know what to do.' When I scored the first, I almost forgot to do it," he laughs.
"The 'black panther' is to show how hungry I am to score goals and the second one was also for my friend, Yusuf, who also plays in Istanbul."
After overcoming the burden every striker carries of getting off the mark, Bimenyimana felt confident that more goals would follow as his teammates began to take charge of the match, spurred on by the passionate home support.
"I believed another one would come because we had that belief in the team and the determination that no team must leave FNB with points so we wanted it more than them and we derived the win," he said, adding, "As a striker I wanted even more but I got injured, so that's how it was."
Another sign of the athletic attacker's growing confidence was his assuredness in stepping up and dispatching Amakhosi's winning goal from the penalty spot. Afterwards he caused some surprise in the stands as he stood before them, arms crossed out in front of him in similar fashion to arch-rivals, Orlando Pirates' trademark gesture.
However, Bimemymana was quick to dispel any misgivings by stressing, "It had nothing to do with Pirates. I wasn't even thinking that it's the same. As I said, it was for me and my brother, what we always do, but now that I know what it means, I won't do it in this country. So, everyone was confused about that on social media, but I repeat, I did it for my friends and my brother. I was happy."
He went further to explain, "In Burundi we have that sign, of a cross, which is part of our tradition. Since we were under-17, we've been doing that celebration and we have grown together to senior level in the national team. In Burundi it means 'we are together,' like 'I've got your back and you've got my back,' so that is why we want to keep it. It even appears on the Burundian flag."
Having scored two goals in his first start for Chiefs and causing a social media storm, Bimenyimana is not getting carried away with the hype. He sees a lot of hard work ahead and is totally committed to improving in order to bring glory to the mighty Amakhosi.
"I am here to work hard and stay disciplined," he concludes.