Posted in News, Team News on Sep 22, 2022.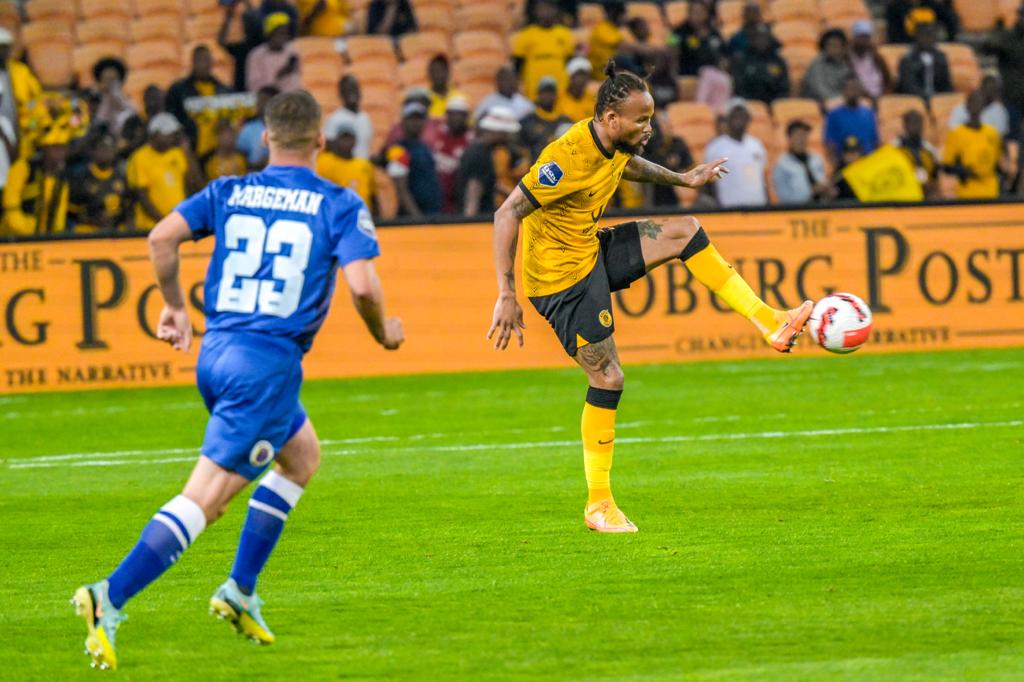 Mozambican international, Edmilson Dove, achieved a long-held ambition when he made his debut for Kaizer Chiefs last weekend, helping them to a 2-1 triumph over SuperSport United at FNB stadium.
The left-footed defender, who was a free agent since leaving Cape Town City midway through last season, joined up with Amakhosi during pre-season.
"I was in Mozambique because I had already left Cape town City in January and I was playing for UDS Songo," he reveals.
"I was with the national team when I got a call to say I should come here for some days, and I said, "why not?" because to be realistic this is the team I have been supporting since I was young. I'm glad that I made some friends when I was still playing for Cape Town City, like Yeye (Reneilwe Letsholonyane) and Shabba (Siphiwe Tshabalala), so for me it was an honour to come here and wear the Gold & Black, even though it was only for training. It went well and they asked me to go for a medical. Then, I had to go back to Mozambique because I had to wait for results, not knowing what was going to happen. But after about a week I got a call from my agent telling me I had to come back and discuss terms. Luckily, it all went well and that was a proud moment - not only for me, but for my family as well - to be here and to represent such a big Club like Kaizer Chiefs."
Dove had to wait for his chance to be included in the starting XI, having been on the bench in the team's earlier matches. However, he was grateful to be part of the squad. "Look, just the fact that I was in the 20 was really special," he says.
"Going to camp with the guys, getting along and creating that bond. For me, the most important thing Is that the Club comes first, whether I play or not. Getting a chance to sit on the bench and feel the vibration of the supporters during our games is very special, you know. And getting the chance to step out and get stuck in there with the guys is an amazing feeling.
"Wearing the Kaizer Chiefs jersey, there's nothing like it!
"You need to know that it comes with a lot of responsibility. For us, it's just about making sure we deliver. I'm happy that we could get the three points even though from my own point of view, I don't particularly think it was one of those games where I could say it was one of my best games. But what matters the most is the result, and that's what we got."
"Going forward we just have to keep this spirit and confidence and start winning more games because this Club deserves to be on top and that's what we're looking for. Every day we come to training, we come here to improve. When we go to games we are looking to win, not only for us but for our families and for every Kaizer Chiefs supporter that goes to the stadium and that watches the game from home. We know what it means to them to know that Kaizer Chiefs won. So, for us, it's our job to go out onto the field and deliver and I'm glad we could do that this last weekend."
Reflecting on his debut afterwards, Dove is satisfied that his initiation as a Kaizer Chiefs player ended well.
"I feel like , as my first game representing such a big Club, you'll always have those 'chillies' in the stomach, but at the end of the day you need to be as cool as possible and that's what I tried to do, even though certain moments in the game could have been better, in terms of passing and probably marking as well, but I am glad that I could contribute for our first goal because I feel like it was something we do in training. The coach always says we need to half-turn when we receive the ball - and I feel the first goal is just a reflection of what we've been doing at training. I was so happy that I could contribute and I hope going forward that I can contribute to some more goals as well and not only defending, because at the end of the day we want to get goals.
Dove's profile is on the rise since becoming a Glamour Boy and his fame has brought Kaizer Chiefs to the attention of many across our national border.
"My Mozambican people never leave me alone. Even when I went back, they have always been supporting me," he says. "But what's more special for me is that I have received so many positive messages from Kaizer Chiefs supporters and like I said in the interview after the game, for me it feels like my second home because I have always been treated with respect, with affection and that for me is special on its own.
"Receiving the support from the Kaizer Chiefs fans, from my friends that I played with in different teams, my family and people from Mozambique is just special. It seems like everyone back home is now Amakhosi 4 Life," he says, breaking into a broad smile, before adding in conclusion: "It gives me an extra boost to keep striving, to keep working hard because I came here to succeed, to win trophies and that's what I am looking forward to."