Posted in News, Team News on Oct 24, 2022.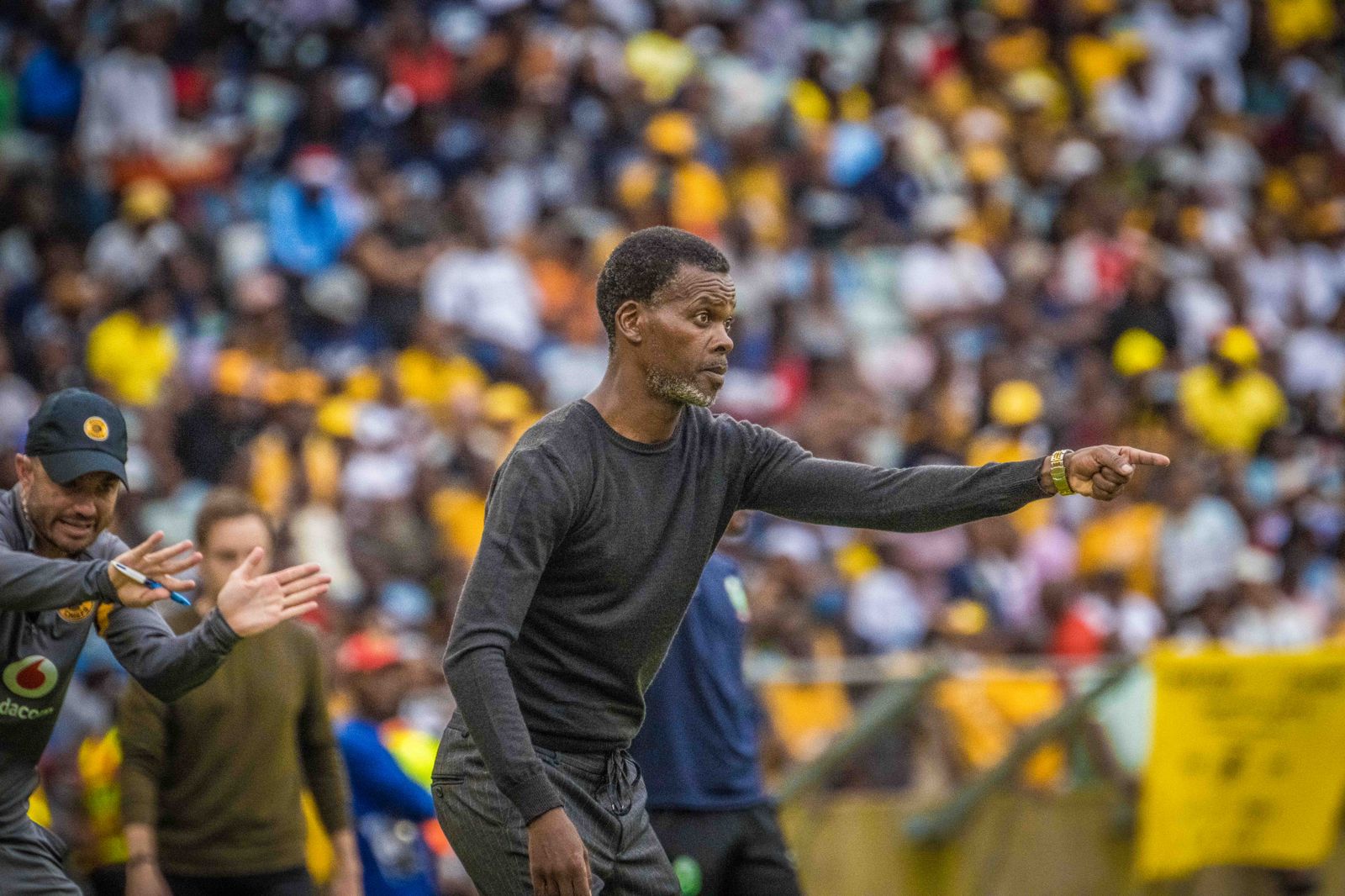 A disappointed Kaizer Chiefs coach, Arthur Zwane, bemoaned AmaZulu's tactics while praising his players in the wake of Amakhosi's exit from the MTN8 on the away goals rule after a goalless draw at the Moses Mabhida stadium on Sunday saw Usuthu progress to the final at their expense.
"We came here to execute a plan but it was not to be. We knew how we wanted to approach this game. We began cautiously because they had the advantage of an away goal (from the first leg) and they were slowing the game down and committing fouls to interrupt our momentum and, at some point, maybe we played into their hands a little bit and allowed them to do that," the coach lamented.
Putting on a brave face, he added, "We can here today wanting to win the game at all costs but it was not to be. We didn't lose the game. They went through on their away goal advantage and the boys did well. We still all really believe in ourselves. You win some, you lose some and sometimes you draw, like today. We are all disappointed that we couldn't do it and the only right thing to do now is move on because we can't change it."
Chiefs had some bright moments in a tense match that failed to produce a single clear-cut scoring opportunity for either team.
"More especially in the first half, we know we could have done better; we had quite a few half chances here and there but we didn't capitalise," said Zwane.
"In the second half, we tried our level best to get a goal but it wasn't to be. We had quite a few promising entries into the final third but again, composure inside the box let us down. I can't fault the effort of the boys, though. They gave their best but it wasn't to be. At the end of the day, we move on and focus on the next game.
The game played out to a stalemate and Zwane, though not totally dissatisfied with his side's performance, believes the tie should have been won in the first leg.
"I think today we defended very well and didn't concede. We also didn't allow them time and space on the ball. When you look at the chances they created, they were from our mistakes but we fixed that in the second half. Overall though we played in dribs and drabs and I think maybe playing on Wednesday took a lot out of the boys," he said, before admitting, "So, when you look at the game, obviously we know how AmaZulu play, trying to slow the game down and buying time. We wanted to win but ultimately the chances we missed in the first leg came back to haunt us.
"We learn from this experience to make us stronger going forward and we'll get better as time goes on. We are all disappointed that we didn't win this game and go through to the final but we are on a journey and we must improve."
A surprise inclusion in the starting XI was Bonfils-Caleb Bimenyimana, whom it had been speculated was not fit to play. Unfortunately, he was unable to influence the game enough to turn the tie in Amakhosi's favour.
Coach Zwane said it made sense to field him in the match, "When we were preparing, we looked ok and was doing well in training so we felt we should start with him because we needed his presence inside the box. Last game against TS Galaxy we had a lot of box entries from wide but we didn't have someone of his height to connect on those crosses. Unfortunately, today we lacked composure in the box. It's something we have to work on."
The coach went further to defend his players, offering possible reasons for the absence of that crucial cutting edge on the day, saying, "Maybe the midweek game took something out of us because we came into today's game wanting to score but we started making mistakes which killed our momentum. We ended up giving possession away cheaply in our haste to get the ball to the final third as quickly as possible. The effort was certainly there but we just lacked a bit of quality and composure to make it count.
"I don't think the pressure of the situation is the reason we didn't make it today. The boys tried their best. Playing for Kaizer Chiefs always comes with added pressure but we see it as a privilege rather than a burden. You have to enjoy it. If you don't enjoy it, you're in the wrong place. In this competition there is pressure every round. When we got through the quarterfinals into the semis, that was also pressure. But these are time that make us grow and we'll be better coaches and better players, and a better team."
Another star forward who endured a trying afternoon, Ashley Du Preez, still retains the faith of his coach, who said, "Coming into today's game, Ashley had just scored (against TS Galaxy) and he played well in that game. Today, he tried his best but maybe the opposition planned to make his life difficult. He did battle a bit but he'll get there with time because at Kaizer Chiefs it's a different level of pressure but there's no doubt he's a quality player and he will also learn from this game and be better for it."
Whether that means the Club will dip into the January transfer market remains to be seen.
"Obviously, we will do our profiling. We have plans for what to do and we won't focus on the negatives, we're looking at the positives. At one stage in the first leg two weeks ago, we had the opportunity to make a lot of chances but we didn't take them," he said.
"We remain determined and will carry on right until the last game of the season and that's when we'll do some introspection and look at ourselves, where we need to improve and what to do about it. Obviously, if there's a player we feel is good enough to play for Kaizer Chiefs and he's available, we'll definitely look at bringing hm on board. But for now, we want to give the players we have now the opportunity to showcase their talent and see how it goes. Then we'll take it from there."
Coach Zwane concluded by drawing a line under today's disappointment to turn his attention towards a brighter future: "Now, we shift our focus to the next game, which is Orlando Pirates. They have been doing very well so we have to do everything in our power to do well and come out with a positive result."