Posted in News, Youth Academy on Jan 18, 2022.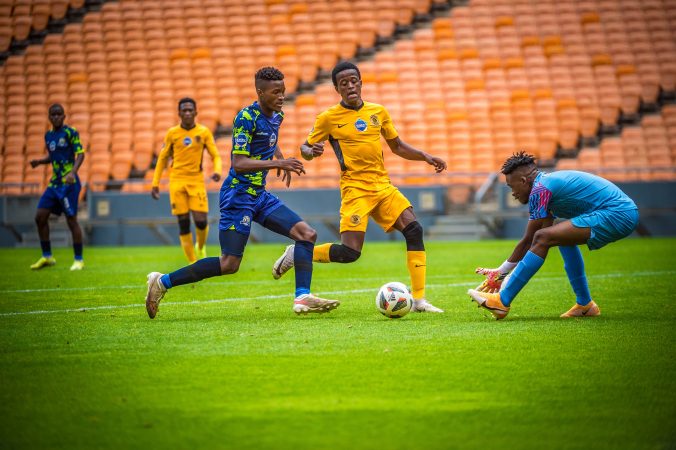 Kaizer Chiefs reserves recorded a comprehensive home victory against Marumo Gallants over the weekend in their latest DStv Diski Challenge clash, as coach Vela Khumalo's team walked away with a 4-0 win.
Just as they did in their 5-4 loss to Royal AM a week ago the Chiefs reserves managed four goals, but this time around they were able to keep a clean sheet and secure a much-needed win.
And for the second week in a row Chiefs had a hattrick hero, as Wandile Duba grabbed three goals and Mthokozisi Balakazi scored the other.
For coach Khumalo, it was all about his team improving from the week before and the performance against Gallants brought a smile to his face.
"Like I always say learn, learn and when I see corrections and improvements I get very happy. I am glad to say that the boys have adhered to whatever we have done throughout the week," beamed Khumalo.
What also particularly pleased him was the fact that his team's defence was not breached.
"We are good in attack and we always try to organise at the back. We are getting there. With time, we will get better and minimise the mistakes," says Khumalo.
After their first loss of the year against Royal AM the coach has now got the bulk of his team together, having been without a host of players towards the end of last year.
He is now looking forward to continuing to build on the Gallants win.
"The team is improving now. We came from a situation wherein the latter part of last year we had players missing as a result of school exams. Now we are better off in that regard. Everybody is back and we will try and do our best to help these young lads go forward in their future," says Khumalo.
For coach Vela, the objective remains to continue fielding and giving a run to a number of youth team players, as he looks to help continue the development process at the club.
"We have under 19 players blended with our reserve players. Right now we are in a new cycle and building a team. These boys have talent and we are continuing to nurture them," explained the coach.
For now Chiefs' three points capped a good all-round team performance, as Duba starred with a hattrick. He scored two goals in the first half and completed his hattrick with a third in second-half stoppage time.
In between Balakazi popped up to score Chiefs' third in the 60th minute of the game in a dominant display as Chiefs now look ahead to their next encounter on the 23rd January against Chippa United, away from home at the Wolfson Stadium in Gqeberha.