Posted in News, Team News, Youth Academy on Sep 14, 2021.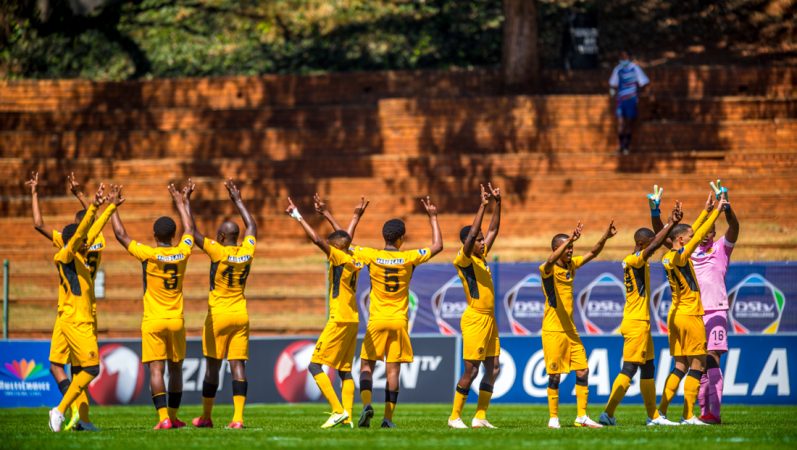 As opening games of the season go, a convincing 3-0 victory in the Soweto Derby against rivals Orlando Pirates was a pretty perfect script for Kaizer Chiefs' DStv Diski Challenge (DDC) team over the weekend.
Tough taskmaster that he is, though, assistant coach Vela Khumalo still felt Amakhosi's reserves were not quite as "dominant" as he would have liked.
"We played well, we stuck to our plan. However, one of the aspects we wanted to do in our checklist was the domination of the game, which we really did not dominate to the level we wanted. But it's okay, it was our first game. We still need to improve going forward," said Khumalo, who assisted DDC head coach Arthur Zwane on the bench for the reserves' Soweto Derby at the Wits University Stadium on Sunday.
Aden McCarthy, son of Amakhosi stalwart Fabian, broke the deadlock in the 26th minute and was named man of the match for his lively performance.
Image caption
Sabelo "Bibo" Radebe doubled Amakhosi's lead in the 65th minute and Keaviano Francis put the final nail in Pirates' coffin nine minutes from time with Chiefs' third goal.
"We set out our targets. We said we are going to score goals in certain moments and parts of the game, and we scored the goals we wanted to ease the pressure on us, considering the team was not so fit (this early in the season). Maybe in the next game there will be greater improvement in terms of dominating the game," adds coach Khumalo.
While he felt negatives were maybe not switching on at the right times in the game and not consistently sticking to the game plan throughout, he felt there was still plenty to improve on with time.
"The most important thing is winning. Winning brings confidence and domination to the game, which is what we want. The Chiefs way of winning with flair and style. For me given it was my first derby on the Chiefs bench, we did well. Playing against Pirates is always a big derby, winning is a cherry on top. Our boys played so well, congratulations to the boys and the technical team at large," concluded Khumalo.