Posted in Club News, News, Press Releases on Mar 30, 2023.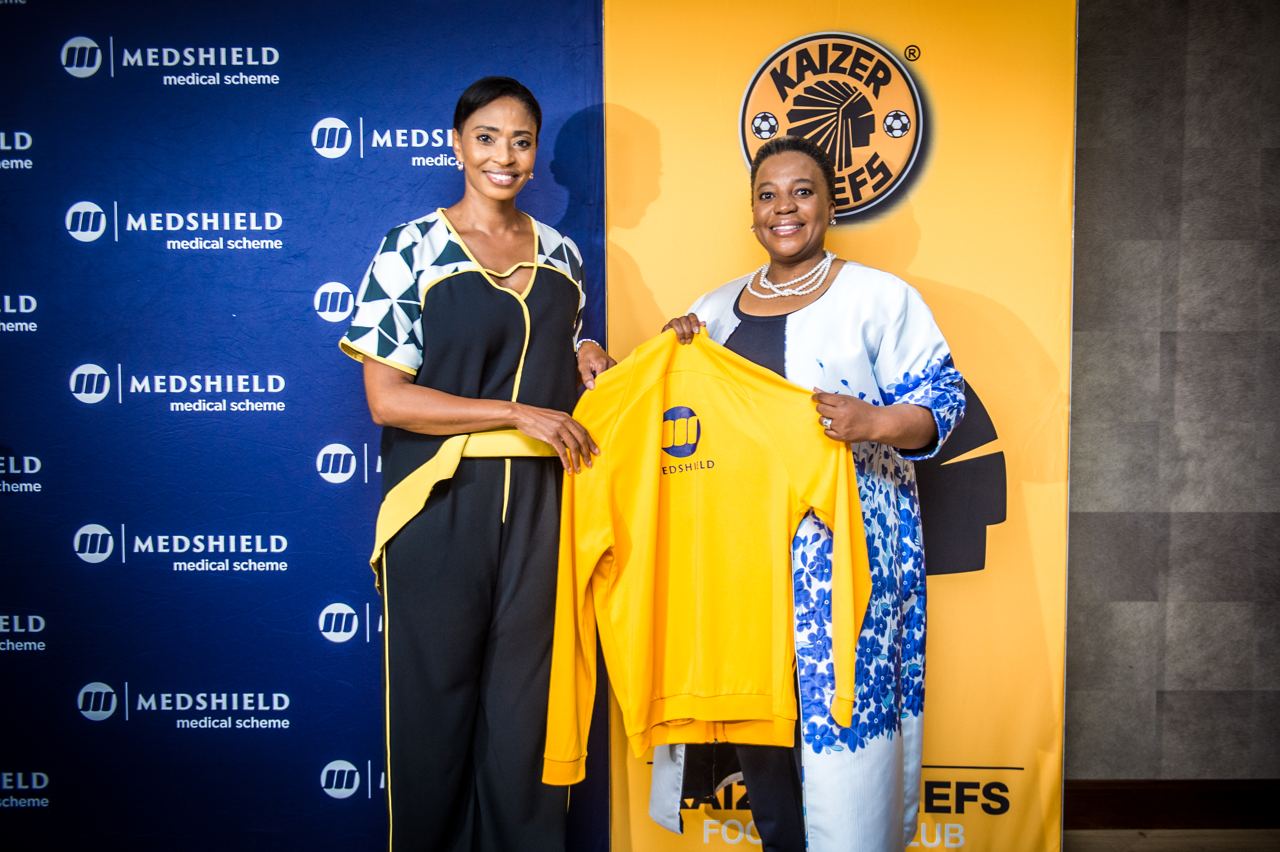 30 March 2023, Johannesburg - Kaizer Chiefs are pleased to announce the renewal of their partnership with one of South Africa's leading medical scheme providers, Medshield Medical Scheme.
This three-year agreement will further strengthen the mutually beneficial relationship between the two organisations, and will continue to reinforce Medshield's commitment to delivering access to quality and affordable healthcare and wellness to all South Africans.
Medshield has been Kaizer Chiefs' medical aid partner since 2017, providing cover to players and the wider Amakhosi families and fans, and in turn, the Scheme has gained significant brand exposure. Through the renewal of the partnership, Medshield will continue sharing its expertise in healthcare cover with the Kaizer Chiefs team, its staff, and its millions of fans across the country. Medshield has been providing essential support to every player, ensuring their access to top-quality health care which is vital to ensuring that players continue to perform at their best both on and off the field.
Commenting on the partnership renewal, Kaizer Chiefs' Marketing and Commercial Director, Jessica Motaung, expressed her gratitude, "We are thrilled to announce the continuation of the partnership with Medshield. The Scheme is a company that is passionate about the development and growth of the sports industry. The support Medshield has shown us has been instrumental in ensuring that our players can perform at their best. The renewed partnership will enable us to continue providing our supporters with world-class football experiences, and we are looking forward to another three years after our successful six-year-old relationship."
Setsooto Sihawu, Medshield's Executive Marketing & Corporate Communication echoed Motaung's sentiments, "We are excited to continue our partnership with Kaizer Chiefs Football Club. Football is an integral part of South Africa's landscape, and Amakhosi have played a significant role in the development of many talented athletes. Not only has our partnership with Kaizer Chiefs given our brand access to South Africans who love football, it also emphasises the healthcare benefits available when selecting Medshield as your healthcare partner."
The renewal of the partnership agreement will see Medshield's brand enjoy an even greater presence, with a range of branding, advertising, promotional opportunities and various activations that involve supporters throughout the football season. In addition, the Club's medical team will continue sporting the Medshield branded gear.
Chiefs have a busy schedule ahead of them, with league matches and a cup competition both before the end of the season. The Glamour Boys will work hard to ensure they qualify for a CAF competition next season. This continued partnership allows the team to confidently take to the field knowing they have the expertise, support and healthcare cover of Medshield, as a committed and reputable healthcare partner, behind them.
Enquiries: 
Alpheus Vina Maphosa
Corporate Communications Manager 
Kaizer Chiefs Football Club 
Email: vina@kaizerchiefs.com
Lilane Swanepoel
Brand & Communication Manager
Medshield Medical Scheme
Email: Lilanes@medshield.co.za
Twitter - @KaizerChiefs 
Instagram - @kcfcofficial 
Facebook - KaizerChiefs