Posted in Chiefs in the community, Club News, News on Aug 01, 2019.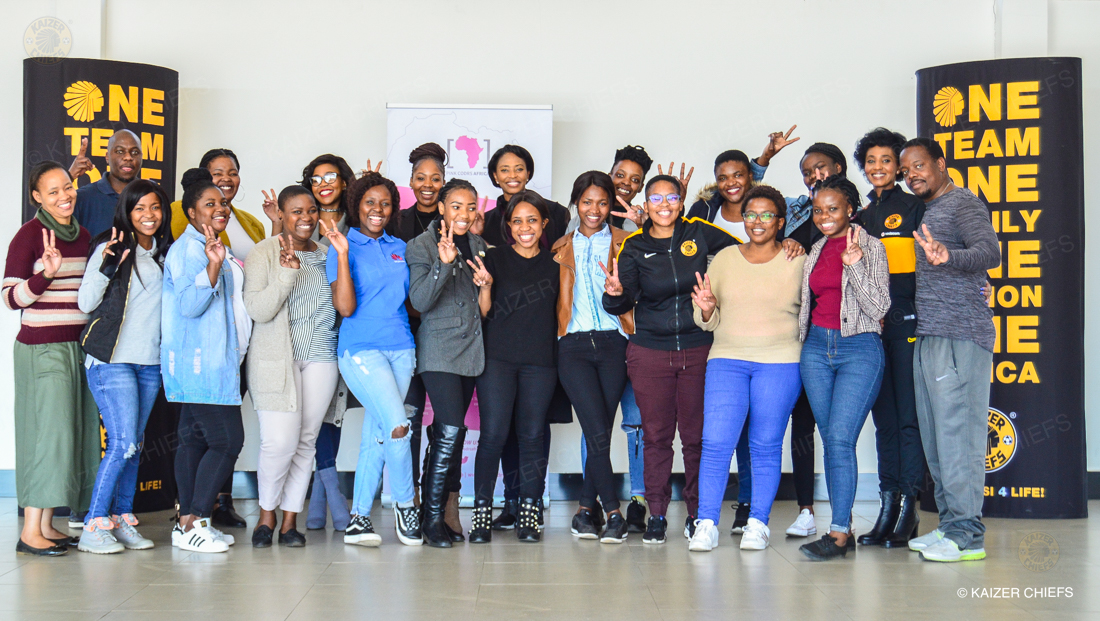 Kaizer Chiefs and PinkCodrs Africa have started an exciting partnership that seeks to develop young women into fully fledged data scientists and developers.

Earlier this week, twenty young ladies were welcomed to the Village by Kaizer Chiefs as they kick off their journey into being coders and developers.

Pink Codrs was founded by Mbali Hlongwane with the view of helping improve the dismal numbers of female developers in Africa by providing opportunities to women interested in coding and creating sustainable change in the software development industry.

"We are very excited to welcome the ladies to the Village and the programme for this important initiative and are looking forward to working with them for the next few months," says Kaizer Chiefs Digital Manager, Kemiso Motaung.

The programme further aims to improve the number of women who will in future be at the helm of cutting-edge technological advances and innovation.

"As we've said previously, we are contributing to helping deal the current shortage of female software developers around the world by empowering women to become computer coders and helping build a strong network of female software developers around Africa," added Motaung.

On the 1st of June, Pink Codrs Africa (PCA) hosted a cloud meetup at JoziHub in Auckland Park, where many women looking to be empowered were in attendance. The aim of the event was to shed more light with regard to the cloud computing space, provide networking opportunities for the ladies present and allow keynote speakers to address the audience on various topics related to cloud computing. Various speakers were present including Kemiso Motaung from Kaizer Chiefs who officially announced the partnership between PinkCodrs and Kaizer Chiefs. The organisers shared programmes planned for the year and how Kaizer Chiefs will play a role in bringing them to fruition.

Madoda Khuzwayo from Hiringly, spoke about his journey in the South African startup ecosystem. Thereafter, a thought-provoking panel discussion chaired by Buntu Mjaja from AndAfrica, took place. Some of the panelists included Helen Tladi from SITA and Kemiso Motaung from Kaizer Chiefs. Gerhard Bothma from Huawei shared some thrilling insights about the Huawei Cloud.

The feedback from the session was very encouraging, indicating a resounding success. As a result, PCA has decided to spearhead the Microsoft Professionals Data Science program in partnership with Kaizer Chiefs. PinkCodrs Africa (PCA) believes that there is untapped potential in women to add value in the data science space in South Africa.

The Microsoft Professionals Data Science program is designed to unearth this potential in women that apply for the program. for a spot in the Top 20. Those selected will be given the opportunity to gain a Microsoft Professional Certification that will upskill them, an accolade which will give them more credibility in the data science space. The Data Science programme will kick off on Monday, 05 August then end in October. The launch of the program took place on the 30th of July at the Kaizer Chiefs Village.

Now in its third year, the initiative in 2019 will focus on the four different events that will take place in Johannesburg, Durban and Cape Town.
The PinkCodrs initiative which aims to bring a number of different ladies who share their passion for IT together under one roof will host two types of events this year – Meet-ups and Workshops. More meet-ups, much like the cloud meet-up that took place on the 1st of June, will take place in the three cities – with focus on the Fourth Industrial Revolution, Machine Learning and Artificial Intelligence. These topics will be covered on the 30 August, 19 October and 23 November respectively.

"We look forward to hosting women from across South Africa and adding value to their perspective of technology while they are able to contribute vastly to the world using what they learn through engaging with PCA at these events. We are keen to forge more collaborations and have more partners come aboard to empower women in a concerted effort," concluded Mbali Hlongwane, PinkCodrs founder.