Posted in Chiefs in the community, Club News, News, Team News on Feb 18, 2017.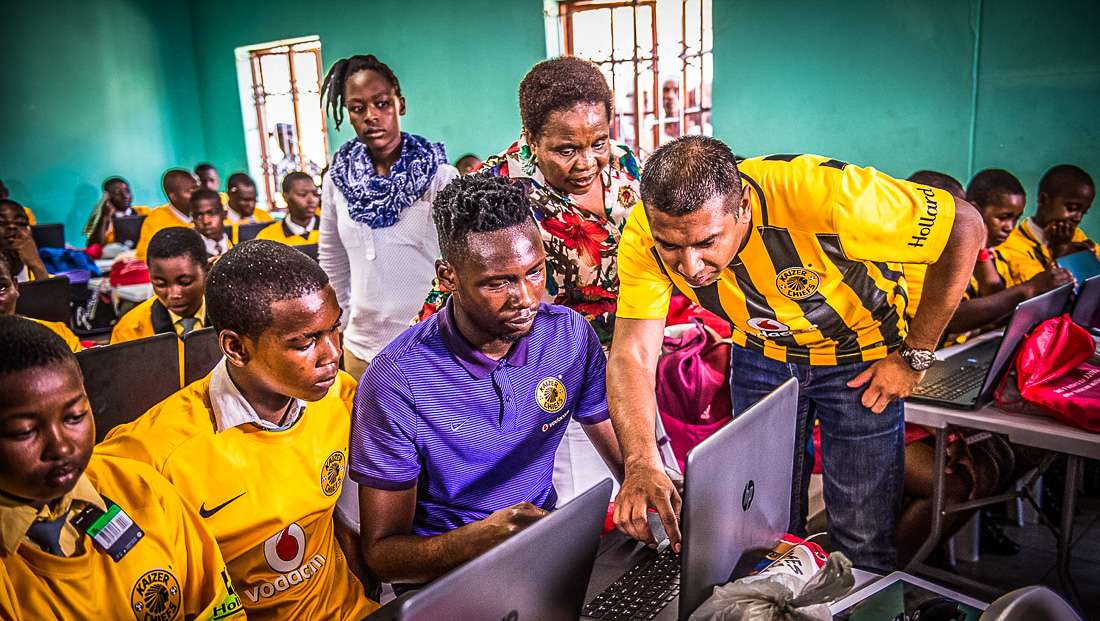 Kaizer Chiefs and the Vodacom Foundation visited Mtwalume in the south coast of KwaZulu-Natal as part of their corporate social responsibility programme ahead of Kaizer Chiefs' final Absa Premiership assignment this season at home in Durban.

One hundred learners from five schools were hosted at the Shlonyaneni hall. They were, BonguZwane High School, BonguCele Jnr Secondary, Sinokubonga Jnr Secondary and Zibonele High School. Amongst the topics discussed were technology, the responsible use of the internet and cyber bullying.

The Kaizer Chiefs team was led by Digital Manager Kemiso Motaung, who facilitated the workshop with aplomb, imparted knowledge and shared valuable tips with the learners.

"We have got supporters all over South Africa," reflected Kemiso Motaung on the workshop. "However, I am in particular happy that we came to this area. The experience was heartwarming and the learners were very receptive to what we shared with them."

Four Kaizer Chiefs players, Erick Mathoho, Keagan Buchanan, Ryan Moon and Camaldine Abraw, were part of the initiative and also gave some valuable advice to the learners.

"I have been a victim of social networking," Buchanan said. "I am glad to see Chiefs and Vodacom educating young people about the dangers of participating in social networking. It's exciting for me to be part of this process."

Vodacom Soccer Manager Rowen Gangulu commented: "We support projects that provide technology solutions in the education and health sectors, helping to meet South Africa's needs. Mobile technology has transformed the classroom of the 21st century by opening up new vistas and possibilities for learners and teachers."

"We registered the schools on the Vodacom education portal called Vodacom e-school," Gangulu added. "Vodacom e-school is a secure online learning platform with free Internet access to basic education content for all Grade 4 to 12 learners."

Umzumbe Municipality Mayor Cllr Sizwe Ngcobo and his executive attended the event at the Shlonyaneni Community Hall. The Mayor expressed his appreciation to Kaizer Chiefs and Vodacom for this gesture of goodwill: "The presence of these two gigantic brands will go a long way in changing the lives of the young minds that attended the workshop."

All the learners received Kaizer Chiefs merchandise and goodies from Vodacom. Some lucky learners walked away with cellphones.

Kaizer Chiefs and Vodacom will return to the area after the June examinations to hand over a computer to the best performing pupil from the five schools. This will be done in an effort to help the youngster prepare better for the end of year examinations.