Posted in Chiefs in the community, News on Apr 03, 2017.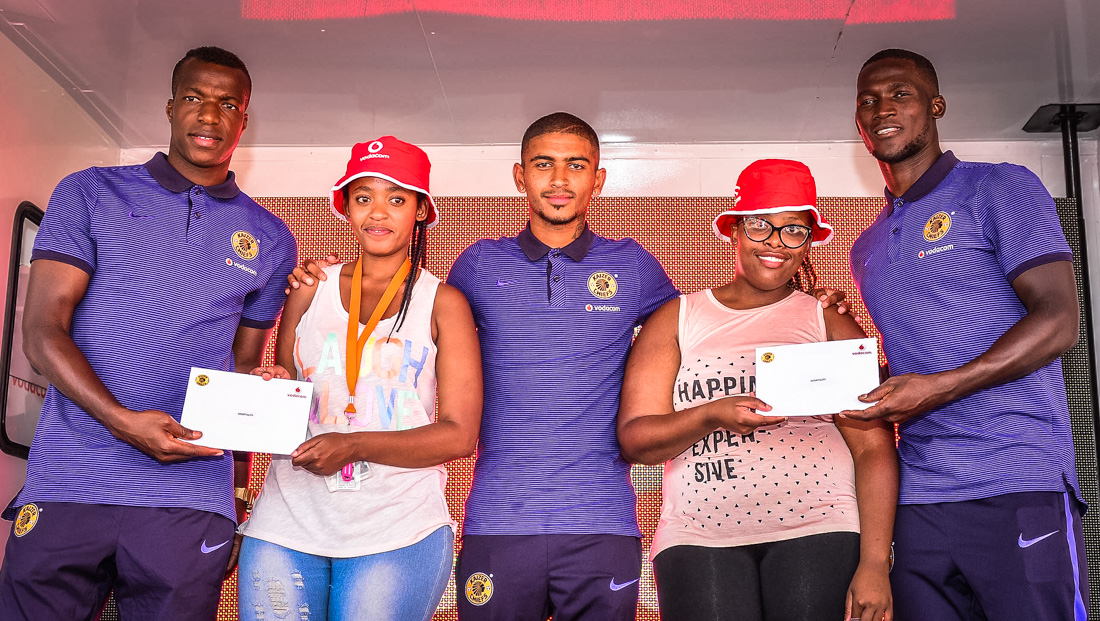 Kaizer Chiefs players Keagan Buchanan, Camaldine Abraw and Siphelele Mthembu joined hundreds of supporters and shoppers at Soweto's Jabulani Mall on Saturday, 1 April, ahead of the humdinger between Amakhosi and Mamelodi Sundowns. This was in a bid to promote the game and bring awareness of the KC Insurance and Retail Store that will soon be opening its doors at the mall.

The chance for players to visit Jabulani was made possible by Kaizer Chiefs and partners Vodacom. The KC Roadshow saw supporters get the opportunity to meet with their idols and win fabulous prizes including Smartphones, Vodacom airtime, Kaizer Chiefs jerseys, VIP tickets to the match and all expenses paid vacations to Sun City.

The three Glamour Boys interacted with fans, took pictures, signed autographs and handed out some of the fabulous prizes on offer.

"It's great to see supporters walk away with such great prizes when all they were hoping for was a glimpse of their players and enjoy the entertainment dished out by the club and Vodacom," Amakhosi midfielder Buchanan reacted.

The KC Retail mobile store came out with exclusive merchandise and specials. KC Insurance agents were there to advise and assist with product information for supporters and shoppers in Soweto. KC Mobile RICA'd supporters who purchased the KC Mobile Starter Packs to ensure they join the Kaizer Chiefs Family of millions that already receive great club content via this platform.

Soweto residents were thoroughly entertained while supporters Surprise Phophi of Meadowlands and Itumeleng Mbhele of White City walked away with all expenses paid for trips to Sun City, where they will be treated like royalty later this month.

"I could not believe my luck when my name was drawn," said Phophi, who still has to decide who will accompany him as he needs to choose three people from his many relatives and friends.

On the other hand, an elated Mbhele says he will definitely be taking three of his family members on this unforgettable adventure that will see them receive other prizes including Kaizer Chiefs merchandise and the experience of visiting Kaizer Chiefs Village before leaving for some fun in the sun of the North West Province.

The game between Kaizer Chiefs and Mamelodi Sundowns, which attracted just under 60 000 spectators, ended 2-1 in favour of the Phefeni Glamour Boys.