Posted in Features, News on Jul 28, 2023.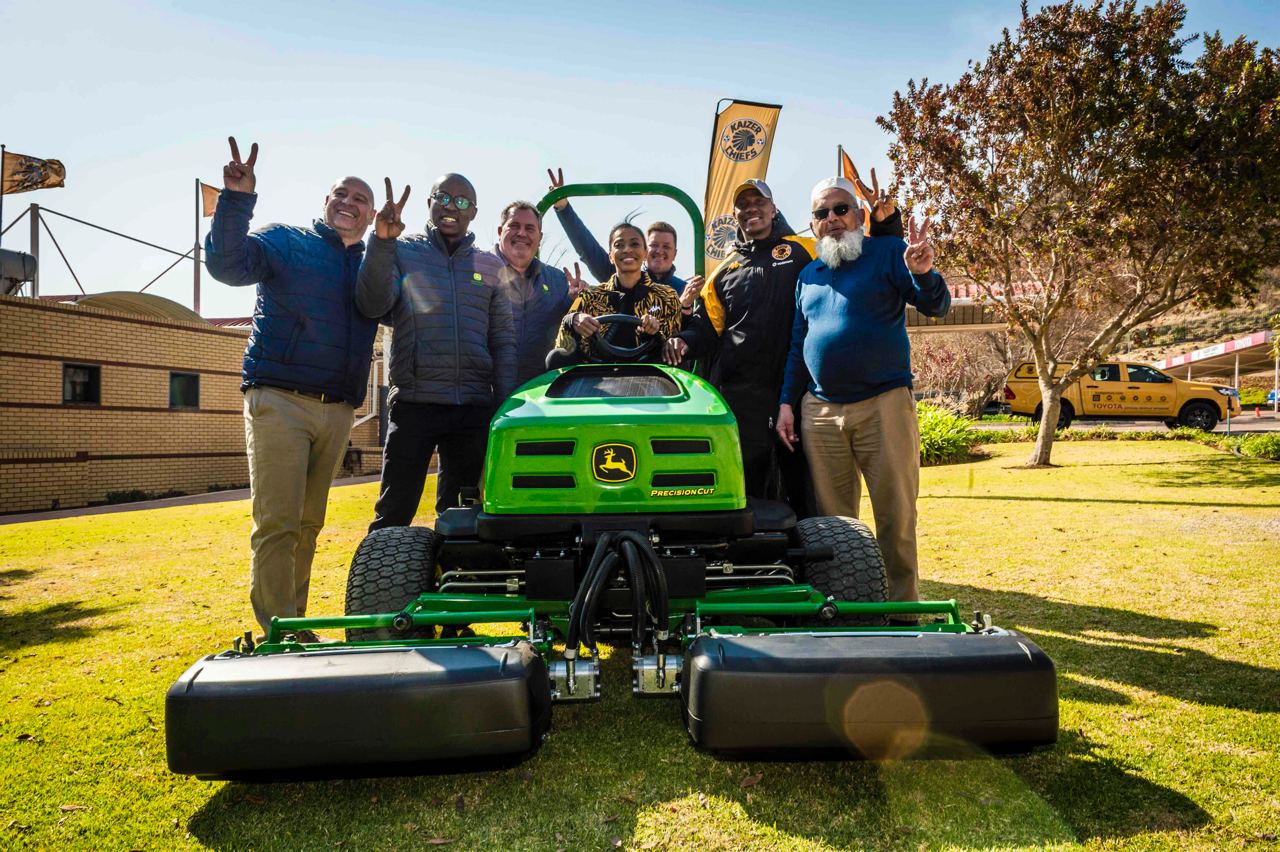 Kaizer Chiefs have joined forces with John Deere in a landmark partnership that gives Amakhosi exclusive use and maintenance services of a brand-new lawnmower, produced by the world renowned manufacturers of agricultural machinery, heavy equipment, diesel engines and lawn care.
The state-of-the-art groundskeeping device, specifically designed for the immaculate maintenance of sports fields, worth in the region of R1-million, will afford the Amakhosi players and technical staff the luxury of training on pristine pitches, in line with the Club's world-class training facilities at the Kaizer Chiefs Village.
A New York Stock Exchange-listed corporation, John Deere has a global footprint and their name, like that of Kaizer Chiefs, is synonymous with the highest standards of quality and performance. They share many core values, laying a foundation for the potential for a long, fruitful relationship.
Speaking at the Village on Thursday morning, where the magnificent piece of engineering was delivered, Glamour Boys Sporting Director, Kaizer Motaung Jr. emphasised the common bonds shared between the two grand institutions.
"It seems to me John Deere's mindset and way of doing things is about investing in people and doing the bigger things, and that is something that stands out to us because it's not just about a piece of equipment, or doing some business," he said, adding, "Infrastructure is about the deeper values and translating them into action. This speaks exactly to the values of the Club and all that we strive to live for. It is important to know we have partners who are in it for the long haul. From an infrastructure point of view, we are very happy to have partners that will assist us in achieving our objectives."
Meanwhile on a separate note, Club Marketing Director, Jessica Motaung highlighted the tremendous success of the initiative implemented with John Deere and Stadium Management South Africa (SMSA) last season, that created the Family Zone in the stands at the stadium to accommodate parents or adults who are with children at the stadium in a way that would give them a memorable match-day experience.
"We appreciate that you understood the need for us to create a family experience at the stadium that was going to advance attendance, allowing supporters to really enjoy themselves, and also attract a new generation of fans of all ages and types, where women can feel safe; the spaces for Kiddies and teenagers, without impinging on families or the older generation of fans," she said in appreciation of the John Deere partnership.
Motaung also acknowledged John Deere's appreciation of the level at which an elite brand needs to operate, as well as how to achieve those lofty goals.

In closing, she said, "Also, that you recognise that as a business, we are expected to deliver at a high level and this is key, and we are grateful to have you along to help us maintain those standards. Thank you for the equipment you brought us and we look forward to training and playing on immaculate pitches."