Posted in Features, News on May 29, 2023.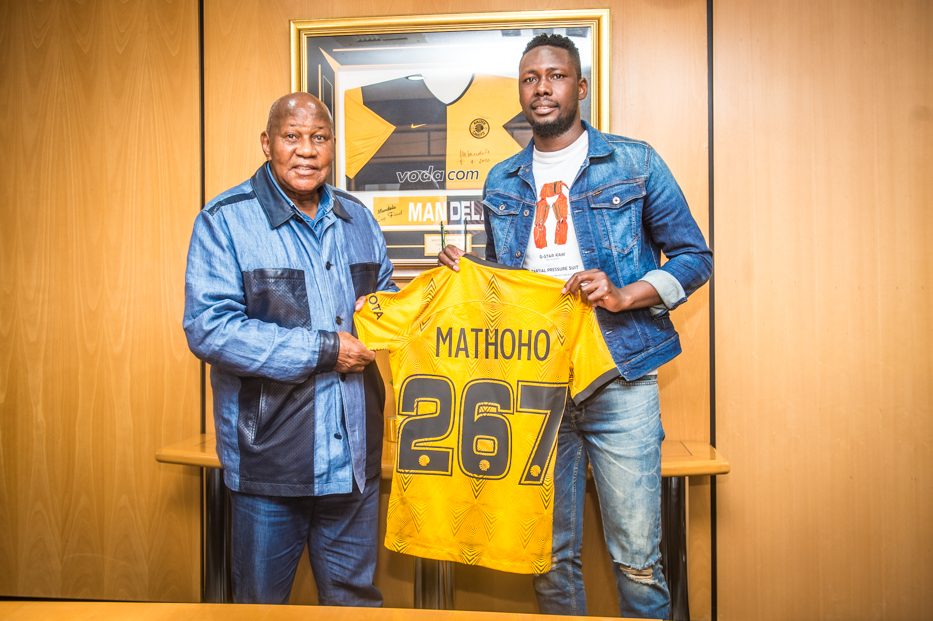 Kaizer Chiefs Chairman, Kaizer Motaung, has hailed the "significant" contribution of Mulomowandau Erick 'Tower' Mathoho and hailed his exemplary example on and off the pitch, as the Club bade farewell to the 33-year-old veteran after a decade of sterling service.
In recognition of Mathoho's loyalty and commitment to Amakhosi, the Chairman expressed his gratitude and respect for the player, and the man: "I must say I am very proud, and thankful, that Tower came in. He is a very good example, in terms of his behaviour and his demeanour. He plugged the gaps that we had at the time. The contribution he has made is significant."
The Chairman emphasised his appreciation for Tower's faithfulness to the Club over taking up other potential opportunities.
"He is obviously different from the normal players that happen in football today. For him to have stayed at the same club for 10 years actually shows the commitment and the love he has for this Club, because he could have had the chance to say no, perhaps to go overseas, but he stayed and stayed the course," said the Chairman.
Recounting the unusual way in which Mathoho was announced as a Glamour Boy before he had actually signed, back in 2012, the Chairman quipped, "Also, we were patient. We did not announce him on the day when we announced new players at the time when he came because we still had some loose ends to tie up, and we didn't want to go wrong and miss a step. When we presented our new signings at the time, he was not there. We had a mannequin there, so that's something that we will always remember about Tower."
Returning to the present, the Chairman continued, "But, besides all that, I must say congratulations to Tower because he has given his best and has contributed to at least four trophies at the Club during his career. I must commend him. Very few players have done what he has done. Those days are gone when you have a player playing for you for 10 or 11 years, because players now are after money and incentives here and there."
"I am actually, lost for words. I don't know how to describe this man because he never had a black mark against his name. He was always quiet. and I don't think any of his peers and teammates will be able to say anything negative about him. I am sure all of his colleagues have much praise for what he has done for this Club," the Chairman added.
Dr. Motaung took a moment to acknowledge the technical staff who assisted Mathoho over the years in fulfilling his potential and reaching the heights he scaled.
"I must also say thank you to management and the coaches that have been here who helped in his development. We all know that this game is all about teamwork," he said.
As Mathoho turns a page in the book of his life story, the Chairman felt pleased that the player's time at Naturena has given him a good foundation to be successful going forward.
"I am sure for Tower, he is proud to have played his part in the history of Kaizer Chiefs. There are different stages of people's lives. You start something, then you grow with it , and as time goes you reach a certain age where you begin a new chapter. This is the case now, and we are proud that we have helped to shape his future by virtue of being part of this huge establishment."
Turning to Mathoho personally, the Chairman said, "I talk to you, not only as the Chairman, but also as a parent, because I see everyone in the team as my sons, and daughters, whatever the case may be. This is more than a nuclear family. The Kaizer Chiefs family is big. You have played your part and you fully deserve to be where you are today. I wish you everything of the best, but remember your name will always be there when our history is told. From now on, you must always remember your family, the Kaizer Chiefs family because wherever you go, you will always be one of us."
"As you reflect on what you are going to do from now on, always remember you will always be welcome here. This is your home," he concluded warmly.