Posted in Club News, Features, News, Press Releases on Nov 24, 2022.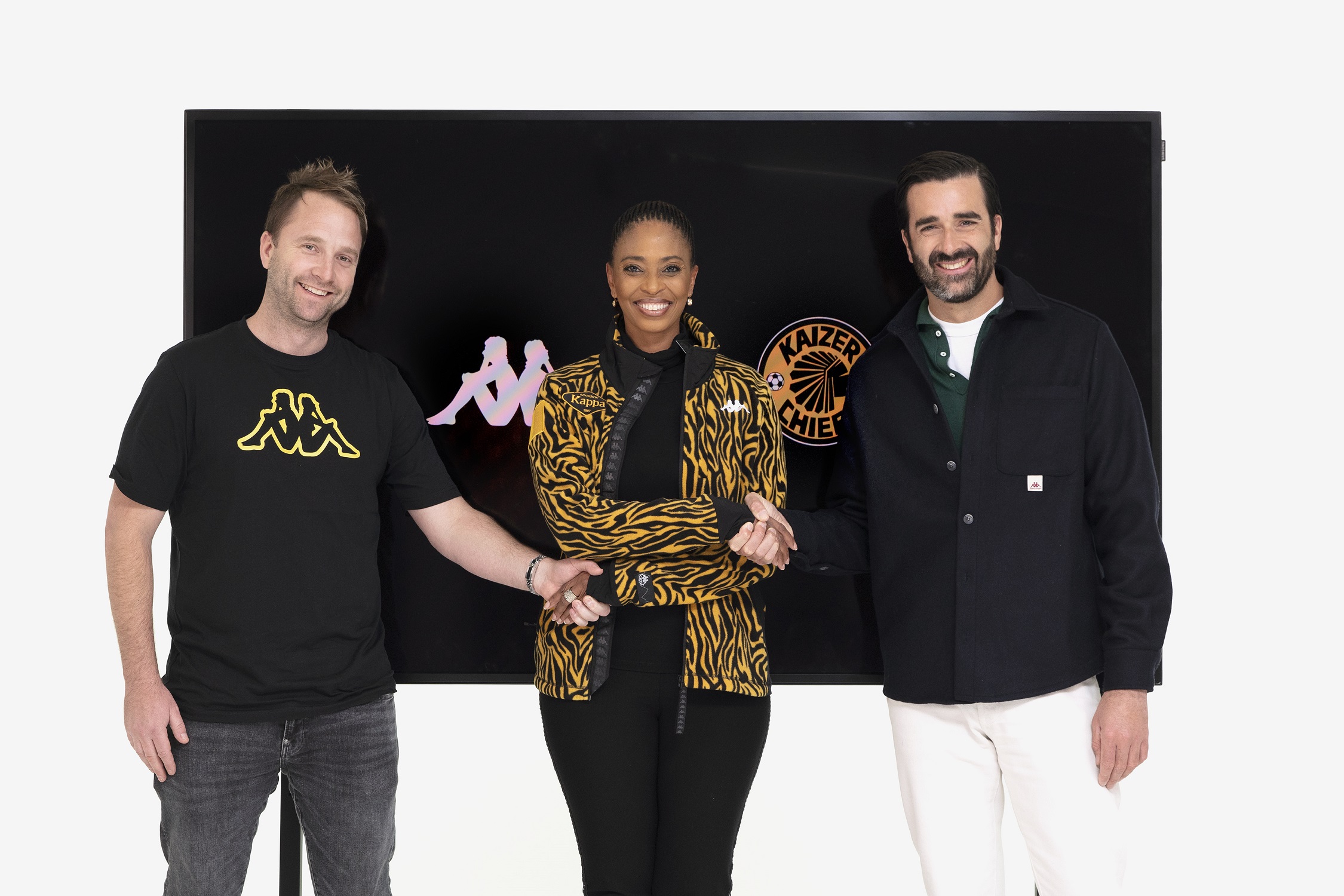 Press Release
Chiefs and Kappa Reunite in Landmark Partnership
Thursday, 24 November, Italy: It was an iconic partnership that revolutionised South African football in the early 90s and now Kaizer Chiefs and Italian sportswear giants Kappa have reunited in a landmark agreement that sees Kappa become Chiefs' official technical sponsor and licensing partner from the 2023/24 season for an initial period of five years.
The agreement to reunite two of the leading brands in football was signed in Italy today, rekindling a relationship that first started in 1989 for seven glorious trophy-laden years and a memorable football fashion journey.
"We are excited to team up with Kappa once again, a brand with which Kaizer Chiefs set new records and established itself as trendsetters in African football in the early 1990s. Kappa, like Kaizer Chiefs, is a unique brand of style and class and one of the key players in the global football kit space. Kappa have had great partnerships with some of the world's leading football clubs, as well as a number of local teams over the years. This deal is not only an acknowledgment of our past but also an exciting leap into the future for the club," says Kaizer Chiefs Marketing and Commercial Director, Jessica Motaung, who is in Italy this week to finalise and conclude the relationship.
The relationship between Chiefs and Kappa dates back to 1989, when Chiefs first wore the chic Italian brand. The partnership - which lasted until 1996 - saw the two brands build a strong and proud heritage. Over this time, Chiefs won many trophies and became leaders in the football fashion sphere. This marriage also generated enormous growth for the Kappa brand in South Africa and neighbouring countries.
Michael Joseph, CEO of Kappa South Africa says: "The signing of this partnership with Kaizer Chiefs has been a target of our company since we reignited the Kappa Brand in South Africa in 2010. This partnership is in perfect alignment with our ambition and continuous goals to continue to make Kappa the largest sports brand in Africa. We are thrilled to be once again partnering with a Club like Kaizer Chiefs whose passion and drive in all aspects, matches that of our brand. Not only are they an ambitious Club, with a strong identity and uniqueness of elegance and excellence, but their fans are their priority. Kappa together with Kaizer Chiefs, are going to reinstall the romance of the 90's and deliver something extraordinary to these fans. Our common glorious past, must be a strength for the future of our partnership and we are really excited to unveil our products to the club's players and supporters in the coming seasons. Our commitment to the Club is to deliver not only to itself but to its fans the most beautiful attire and product seen to date."
Great players such as Doctor Khumalo, Lucas Radebe, Fani Madida, Gary Bailey, Isaac 'Shakes' Kungwane, Marks Maponyane, Neil Tovey, Donald 'Ace' Khuse and many other former players wore Kappa with pride and lifted almost every trophy that was on offer in the late 1980s until 1996. The identity of the Club during those historic years was built around Kappa as Chiefs' kit sponsor that saw Chiefs wear the famous "Omini" stamped jerseys.
The new partnership follows the parting of ways between Chiefs and Nike at the end of the 2022/23 season, after the longest kit partnership in the Club's history, lasting 23 years.
"It's important to thank Nike for the partnership since 2000. It's uncommon for partnerships to last for over 20 years, and we are grateful for the opportunity to have enjoyed a relationship with one of the world's leading sports brands," says Motaung.
In terms of the new agreement, Kappa will supply kit and accessory products to all Kaizer Chiefs teams, from the Kaizer Chiefs Youth Academy Development teams to the Senior Team. In addition, Kappa will have the right to manufacture and distribute Chiefs and Kappa branded merchandise and accessory products in South Africa, throughout Africa and the across the globe.
Chiefs is the most popular and successful sports team in South Africa. During its proud 53-year history, Amakhosi have won 76 official trophies and have a support base of nearly 20 million supporters.
"We believe that the reignited partnership with Kappa will introduce and bring about new technical product innovation and exciting designs for our teams and supporters. We are looking forward to this new journey with our long-time friends, Kappa, as they embark on reclaiming their position and dominance in the South African football and sports market," concludes Motaung.
ENDS:
Enquiries
Kaizer Chiefs Communications
Alpheus Vina Maphosa and Jabulani Mbanjani
Email: vina@kaizerchiefs.com / Jabulani@kaizerchiefs.com 

Follow Kaizer Chiefs on twitter: @KaizerChiefs; Facebook: /Kaizer Chiefs; Instagram: kcfcofficial; www.kaizerchiefs.com; YouTube: KaizerChiefsFC
Follow Kappa on Facebook: @Kappa.SouthAfrica; Instagram: @kappa_southafrica; Twitter: @kappa_sa; www.kappasa.co.za; Youtube: Kappa South Africa; Hashtag: #KappaSA