Posted in Features, News on Oct 27, 2022.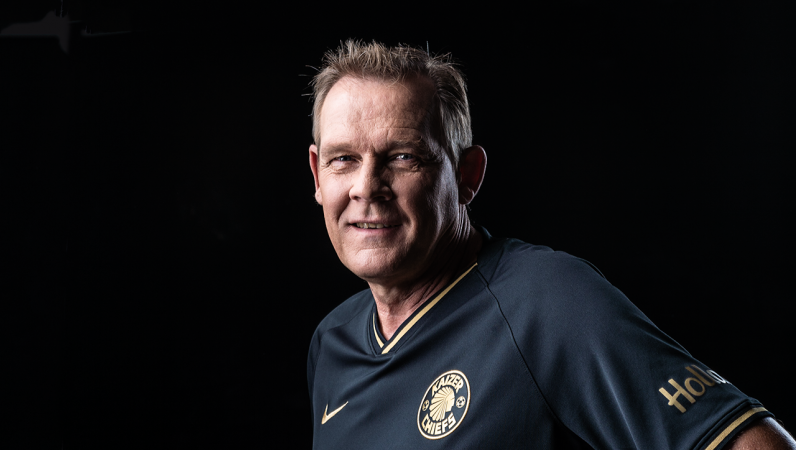 When the 'sold out' signs went up early this week for Saturday's Soweto Derby there would have been plenty of nervous and excited butterflies fluttering in the tummies of both sets of players.
Playing a football match in front of over 80 000 fanatical football fans - with millions more watching at home - is not pap en vleis as the famous local adage goes, but Neil Tovey is calling on Kaizer Chiefs' players to embrace the occasion and to use it to stamp their names on the hearts of the Amakhosi faithful.
'Mokoko' played plenty of Soweto Derbies in his 10 seasons at Chiefs, in which he won three league titles and many cup trophies with Amakhosi, so he is well placed to talk on what makes this fixture unlike any other.
"First of all as a player you must classify it as a privilege to play in the Soweto Derby. I would see it as one of the top five derbies in the world. It catches a nation's imagination for weeks before and weeks after," Tovey told www.kaizerchiefs.com this week.
This sold out Soweto Derby will be special, for players and fans alike. It's been six derbies without fans now since February 2020 due to the enforced Covid restrictions, and this weekend South Africa's biggest game will roar loudly back to life in full technicolour and cacophonous sound.
"It's great to hear that the match has been sold out. The players need a full house. It can work on the nerves of some and can really work for others. You always carry some nerves playing in these big games, but the more you play in it the more you get used to it. My first couple of derbies when I first arrived at Chiefs, most certainly the nerves were jangling. Thereafter, it's all about your own confidence in your own game. As you become more and more established at the club, you're still judged, but you are not as heavily judged by the fans, because they know your capabilities as a player," says Tovey.
For a number of Chiefs players, playing in the Soweto Derby will be a new experience unlike anything they've experienced before in their professional football careers.
Tovey, however, is calling on them to put behind them what has been a difficult week and to back themselves to showcase their ability in the big game.
"The results prior to the match I wouldn't say they don't mean anything, that's not the case. Going into the derby with form has got to help, but then we also know the form book gets left behind when it comes to the derby. The nerves come into play, there are a lot of players from both sides that have not played derbies before, it's going to be quite different for them," says Tovey.
For the revered Amakhosi captain in the Soweto Derby the enjoyment comes from "the emotions that run in the match" and its massive impact on both clubs.
"From the fans, to everybody in the club itself - I'm not just talking about the players - whether you're in finance or any department at Kaizer Chiefs, you feel the derby heat. It's different to anything else, things get done differently leading up to derbies.
A Chiefs coach can be doing very very well, suddenly he loses a derby and there's a lot of talk around him. And vice versa you can be on an indifferent run and suddenly you get a win in the derby and you get a really good reprieve and you're loved. It's got that mixed emotions. That's the lovely thing about the derby. It doesn't matter whether you're in Johannesburg or anywhere in the country, everyone is intensely involved in it," says Tovey.
For the Chiefs legend his best Derby memories were always the ones which Chiefs won!
"Beating them, winning them. It's got to be winning," says Tovey, adding "I don't care how you win the derby. Obviously having a good performance in the derby is great, but every derby win was special. There was no Derby that was less important than the other, but the nicest ones were the more important ones. I'm talking about Rothmans Cup semi-finals, league deciders, those type of things," says Tovey, who was Chiefs captain when Amakhosi beat Pirates 3-2 over two legs in 1998/99 season en route to annexing the trophy.
There will be a break from domestic football after the Soweto Derby during the FIFA World Cup, which Tovey says gives Chiefs players even more motivation to leave it all out on the pitch on Saturday.
"It's bragging rights for two months, it's vitally important to get a win going into the World Cup break," concludes Tovey.