Posted in Features, News on Apr 14, 2022.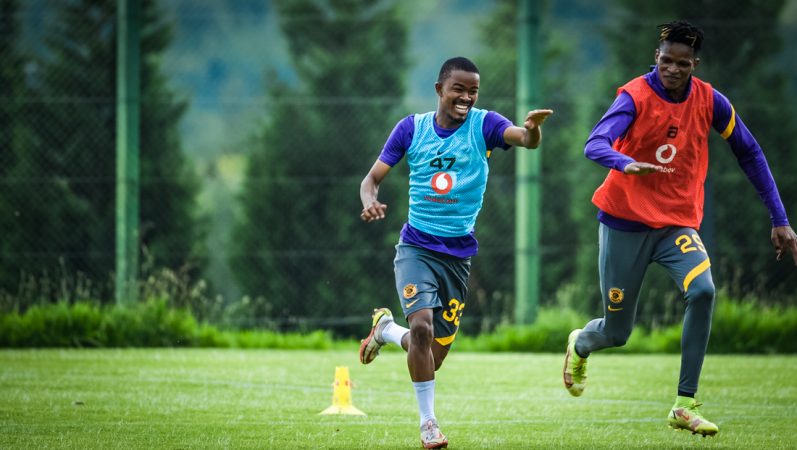 Sabelo Radebe's face lights up and he can't hide his excitement as he lets out an excited giggle when asked about Kaizer Chiefs fans returning to the stadium to cheer on the team this weekend against SuperSport United.
A Kaizer Chiefs academy product 'Bibo' grew up with a front row seat to the adulation Chiefs supporters have for the club's first team and he is looking forward to now being one of those players giving joy to those multitudes of supporters, as a member of the club's senior team.
"It is a great feeling, having people cheer you on and motivate you to give it that extra go. It is a huge motivation for us. It's been a long time now without fans, it will be almost like starting all over again with them, we are happy to have them back," Radebe told www.kaizerchiefs.com.
The young attacking midfielder is one of those 'X-factor' players reminiscent of the likes of Jabu Pule, Scara Ngobese and Junior Khanye, who sends ripples of excitement through the hearts of Chiefs fans and Radebe is excited to perform for them and show them what he can do.
"I am really looking forward to the cheering of the fans. I'm really proud to represent the club and nervous at the same time. As for the preparations for the SuperSport game so far so good. The gents have been pushing and the coach has been pushing us. We are ready as a team and everyone is up to the challenge, so we are going to make sure we give our best to improve our position in the league," says Radebe.
Of this weekend's opponents SuperSport, Radebe says "they can play, but we can deal with them."
Another Chiefs first team newbie, Kgaogelo Sekgota, says as one of the best teams on the African continent, Chiefs fans "provide a high standard of support".
"Having supporters at the stadium is very important and will help the morale of the team to perform. It's a great feeling and we are looking forward to playing for them and my wish is to give them a good result," says Sekgota, who is enjoying honing his skills and improving with the quality of the experienced players around him.
The exciting winger is respectful of this weekend's opponents at FNB Stadium.
"SuperSport is a good team, we can't disrespect them. We have to give our best and ensure we get maximum points," says Sekgota.