Posted in Features, KC Women, News on Aug 25, 2023.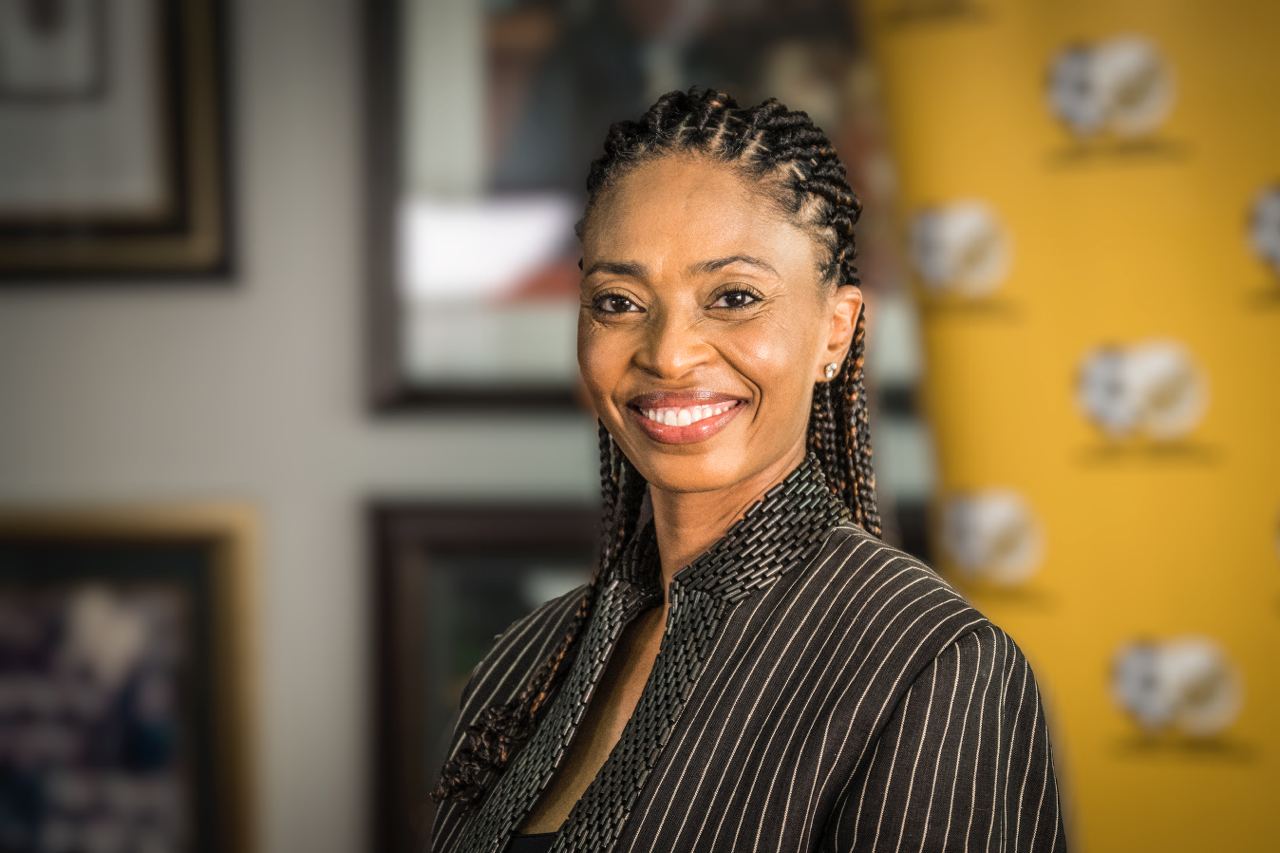 As we near the end of August, which is Women's Month in South Africa, we celebrate our own phenomenal woman, Jessica Dineo Motaung, who celebrated her 50th birthday on 23 August and look at her remarkable journey with the Club under the guidance of our Executive Chairman, Kaizer "Chincha Guluva" Motaung.
Turning 50 is a significant milestone in anyone's life, and for Jessica, it is an extra special celebration as she also marks an incredible 25 years of service to Kaizer Chiefs. As the Marketing and Commercial Director of this South African footballing institution, Jessica's unwavering dedication has been instrumental in the success and growth of both the Club and the role of women in sports management.
Commitment to Kaizer Chiefs:
Jessica's journey with Kaizer Chiefs began in 1998 when the erstwhile model joined the Club after placing highly in prestigious events, such as Miss South Africa, and representing the country at the Miss World competition. Over the years, her passion, knowledge, and drive helped her rise through the ranks. Today, she is one of the most respected figures in South African and African football, playing a pivotal role in defining the Club's identity and success.
In her 25 years of service, Jessica has witnessed and contributed to numerous memorable moments and achievements for Kaizer Chiefs. From clinching trophies to building a strong fan base, both locally and internationally, her indefatigable commitment has been integral to the Club's growth and dominance in South African football.
Empowering Women in Sports Management:
As a woman in a predominantly male-dominated industry, Jessica's presence and achievements have broken barriers and inspired countless women to pursue careers in sports management. She has been a driving force for gender equality, demonstrating that women can hold influential positions in the sports world.
Her influence extends beyond her role at Kaizer Chiefs. She actively participates in various initiatives aimed at empowering and uplifting women, advocating for equal opportunities and creating a path for future generations of women in sports leadership.
We also witnessed Jessica being appointed to the CAF Women's Committee in 2021, as well as SAFA's Women's Committee earlier this year.
Legacy and Impact:
The impact she has had on Kaizer Chiefs and South African football cannot be overstated. Her visionary leadership and dedication to the Club have elevated its status both on and off the field. Under her guidance, the Kaizer Chiefs brand has grown exponentially, becoming one of the most recognised and respected football organsations in Africa.
Her contribution to the Club goes beyond her marketing and business acumen. She has fostered a culture of inclusivity, ensuring that Kaizer Chiefs remains an integral part of the community it represents. Her dedication to philanthropic initiatives and community development projects has solidified the Club's image as a responsible and caring entity through many CSI initiatives she has been involved with over the 25 years.
Celebrating a Remarkable Milestone:
As Jessica celebrates her 50th birthday and 25 years of service to Kaizer Chiefs, fans and colleagues alike are joining in her celebration for the remainder of the month, acknowledging her tremendous achievements and steadfast commitment to the Club. Her transformative leadership has laid the foundation for a prosperous future for the Club.
As she enters a new decade in her life, it is clear that Jessica's passion for Kaizer Chiefs burns as brightly as ever. With her at the helm, the Club is poised to reach even greater heights, as her example continues to inspire and empower not only its fans but also aspiring women in active sports and management around the world.
Conclusion:
Jessica's 50th birthday marks not only a personal milestone but also a reflection on her remarkable 25 years of service to Kaizer Chiefs. Her visionary leadership and dedication to empowering women in sports management have positioned her as a role model and a trailblazer in South African football.
As the Kaizer Chiefs family comes together to celebrate this remarkable achievement, we do so with gratitude and admiration for all that Jessica has achieved and the impact she continues to make.
We look forward to celebrating more years with you, Jess!