Posted in Features, News on Apr 22, 2022.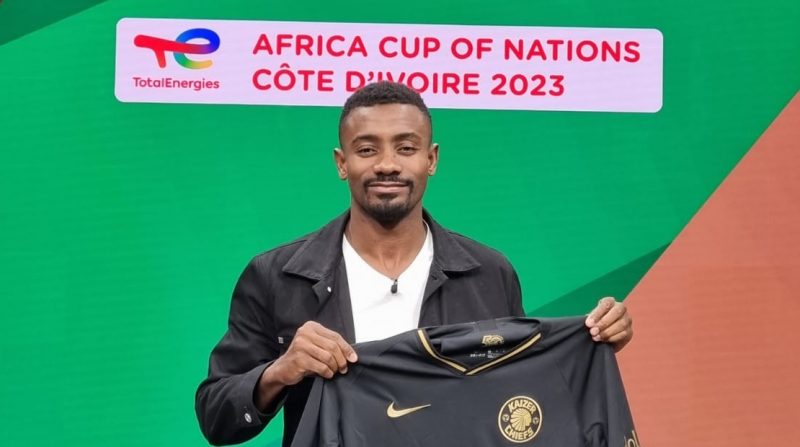 He had the important task of determining the fate of Africa's top footballing nations this week when conducting the 2023 Africa Cup of Nations Draw, but before doing his duties Ivory Coast legend Salomon Kalou still had time to show Kaizer Chiefs some Love and Peace.
The former Chelsea, Lille and Botafogo striker was one of the AFCON 2023 draw assistants with Amakhosi icon Lucas Radebe in Johannesburg this weekend, and he beamed like an excited schoolboy when he and Radebe were presented with the Kaizer Chiefs limited edition 50th anniversary commemorative jersey.
Kalou's relationship with Amakhosi dates as far back as 1999, when he was part of the Asec Mimosas squad that played against Chiefs in the 1999 Vodacom Challenge in Durban. Also in that star-studded Asec squad that lost a third place playoff in the tournament to Chiefs were the likes of former Arsenal, Liverpool and Manchester City defender Kolo Toure, former Tottenham defensive midfielder Didier Zokora and former Paris Saint Germain and Montpellier defender, Siaka Tiene.
Kalou's face lit up as he opened the Chiefs jersey and excitedly posed for pictures with it, which he posted onto his personal Instagram account.
The Ivorian attacker surprised with his knowledge and love for Amakhosi, saying the 1999 Vocacom Challenge and the reception from the Kaizer Chiefs defenders left a distinct impression on him.
"I can't wait to send this picture of me with the Kaizer Chiefs jersey to Siaka Tiene. He is always telling me about his time at Mamelodi Sundowns, but now I can show him my picture with the Kaizer Chiefs jersey," an excited Kalou told www.kaizerchiefs.com.
Kalou and Radebe drew Bafana Bafana in a tricky Group K for the AFCON 2023 qualifiers, alongside Morocco, Liberia and neighbours Zimbabwe, but he was confident Bafana could progress for the tournament to be played next year in his home country, Ivory Coast.
Outside of their clash with Asec Mimosas, Chiefs have their own bit of Ivorian history in having once had former Ivory Coast striker Serge Djiéhoua in their ranks, a player Kalou knows well from his Asec Mimosas days.