Posted in Features, News on Jul 06, 2022.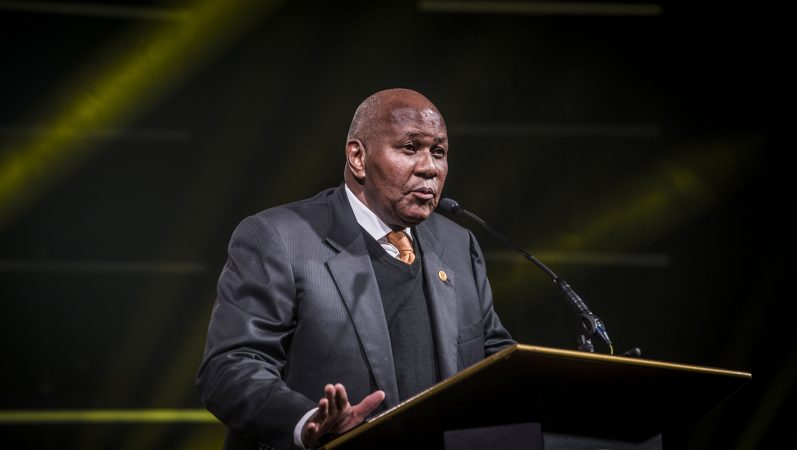 Kaizer Chiefs Chairman, Kaizer Motaung, has paid tribute to former Amakhosi winger Jerry Sadike for his contribution in "changing the political landscape of the country".
The Sadike family announced the striker's passing last week, which Motaung called "a very sad moment for the family and for all those who knew Jerry Sadike".
Having first represented Pimville United Brothers, Sadike played in and scored in Chiefs' first official league fixture against African Wanderers on 16 March 1971, finding the back of the net in a 10-1 win.
"What a loss to our society. Jerry was a guy who was soft-spoken, who never engaged in arguments, but who showed his actions on the field of play. He made such a huge contribution to the teams he played for. At Chiefs we had the benefit of enjoying his contribution. He went to Pirates and played for other clubs, but his conduct was the same wherever he went, whether at Chiefs or at Pirates or any other club, even Highlands Park. He was one of those characters who did not say much, but behaviour teaches you something about an individual. He was such a humble, very kind person and was never in the media for the wrong reasons. It's really a great loss to humanity, because he was a great human being. He was exemplary to all those youngsters who came after him and to his peers," Motaung told www.kaizerchiefs.com.
Sadike was an important part of the star-studded Kaizer Chiefs side that won the Club's first league title in 1974. One of his defining games coming at Orlando Stadium on 16 November 1974 when his brace, along with a Patrick 'Ace' Ntsoelengoe goal, gave the Amakhosi a 3-0 Soweto Derby win against Orlando Pirates in the final match of that 1974 season to put the seal on Chiefs' first ever National Professional Soccer League (NPSL) title win.
Other than representing both Soweto giants, Sadike also played for Swaraj in the Federation Professional League (FPL) and was also the first player of colour to play for the revered Highlands Park in the National Professional Soccer League in a trailblazing football career.
It was a move that saw some call him a "sellout" for playing for a 'white' team at the height of apartheid, but Motaung says those critics were off the mark.
"People forget our history in football. Over the years football played a significant role in changing the political landscape of the country. We were obviously restricted by the apartheid regime, some of us continued to get players from the white sector from the National Football League coming through to the NPSL. That was a move towards non racialism. His move towards playing for Highlands Park was also a move that was part of an initiative that was trying to make this country normal. Those who perceived him as a sellout come from the wrong angle of the man. He actually showed the country that despite the segregation laws you can still go and play for a white team, which is part of what our ultimate goal was in the end – to normalise the country," says Motaung.
Sadike was one of many stars of that 1974 squad, including Patrick 'Ace' Ntsoelengoe, Herman 'Pele' Blashcke, Michael 'Bizzah' Dlamini, Abednigo 'Shaka' Ngcobo, Vusi 'Computer' Lamola, Kaizer 'Chincha Guluva' Motaung and Johannes 'Big Boy' Kholoane, scoring 11 goals in that 1974 league-winning season.
"This is one player that if you talk of consistency in terms of performance, this is one player who was very consistent. He either scored goals, but also created for his teammates. I don't remember him getting a yellow card. He never was involved with a tackle that threatened other players' bodies. He was such a clean, clean player, never got himself entangled in unnecessary squabbles or rough tackling. Most importantly Jerry was so humble, on and off the field. He was a living example off the field, he was so neat and was always exemplary in terms of how one should present himself in public," says Motaung.
The Kaizer Chiefs Chairman says Sadike's legacy is one "of good sportsmanship and a legacy of a love for the game".
"This was the game of his life and he fully committed himself to it. I would like to take this opportunity to really express my sincere condolences to the family and to give them all my support. We should all thank God for the opportunity of having him be part of our life history. May he rest in peace," the Chairman concluded.