Posted in News, Team News on Sep 17, 2022.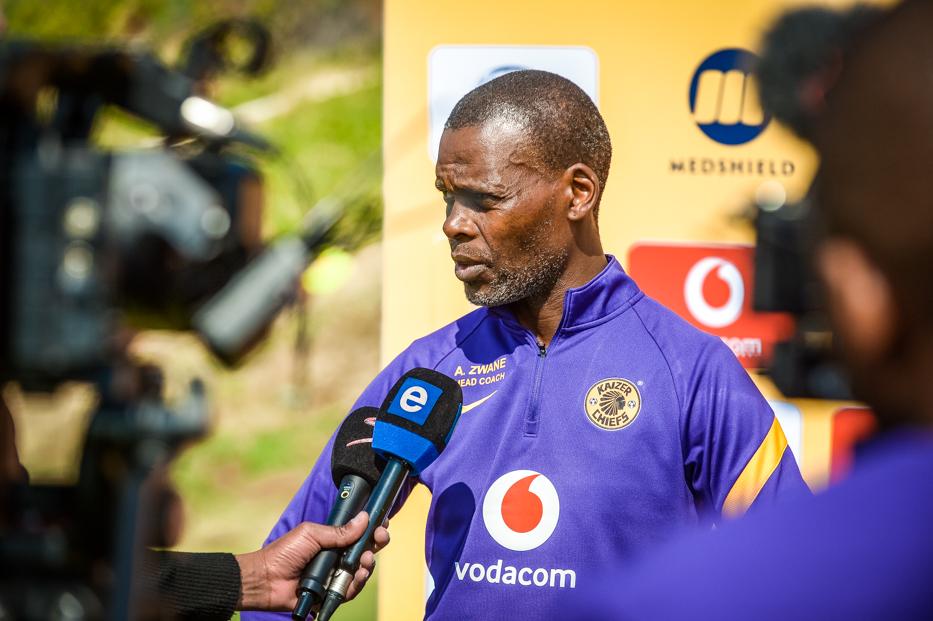 Coach Arthur Zwane gives some insight into his team's approach to the weekend's big DStv Premiership clash at FNB stadium.
Kaizer Chiefs versus SuperSport is everyone's favourite match to watch, even during your playing days, coach?
Yes, those games have always been difficult for us - they were more like our hoodoo team – and we are expecting a tough one on Saturday. They have been doing very well, managing to grind out results away from home, and also at home, so it shows they have assembled a good team that plays with energy. They also have a good technical team. But overall, as a club we are looking forward to the game.
Take us through your preparations since you last played?
When you look at how we are trying to play, I don't think we need to dwell too much on the negatives. I have seen a lot of positives and we are trying to improve those positives and bring back the confidence in the team. The players have responded positively. When I look at them even now, there's a lot of positivity in their mindset, which is very good for us. Hopefully, we will take this into the game itself and continue with the same energy and positive mindset.
Obviously, there are challenges here and there, with injuries and suspensions as time goes on, but those things happen. They are part of the game as well.
As coaches you look at different elements that we, as supporters, don't see. At this stage, how do you define the status of your team? Where are you in terms of the philosophy and the things you want to do?
In terms of combinations, we are getting closer because if you watch our games we always have a few promising good moments that we usually don't capitalise on, but which I believe will build our confidence even more if we can capitalise when we create those chances. We are working on that. We are also trying to make sure that the players forget about the mistakes on the field and focus more on the good things that they do. The more we improve the more we believe in ourselves and our abilities. I think we will get it right sooner rather than later.
What intelligence have you gathered from Pretoria, based on what you have seen in their previous games, their players pound for pound… how do you assess them?
I think their main strength is their aerial power. They get the ball out wide and put in crosses. They've got players like Bradley (Grobler), (Thamsanqa) Gabuza and (Thabang) Sibanyoni. They also have players that are out and out wingers that can put in good crosses so we are trying by all means to cut the supply. That will be the strategy; not to allow them to get the ball out wide and pinpoint the players inside the box.
At the same time, we also have to give them something to worry about when we have the ball. We have areas where we know that if we can quickly get the ball to those areas we can easily create a lot of goalscoring opportunities for us to win the game.
Lastly, you went to Rustenburg last time out with a lot of players unavailable. What's the situation now, in general?
We are still missing Khama (Billiat). We are also missing Nkosingiphile Ngcobo and George Matlou, who has a back problem. (Siyabonga) Ngezana was down with flu but he seems to be okay and is available for selection, so I think it's only the three players I mentioned who are out and not ready to play. We know Ngcobo is out because of a family bereavement and Khama should be back in about two weeks. Then we have the FIFA break which will give him time to recover fully and recharge his batteries. Everyone else is available.
Having said that, do you feel ready?
Yes, we are ready. We have always been ready. It's just that results haven't been coming our way, although not because we played very badly or didn't create chances. We did create enough chances to win those games. Yes, maybe we haven't played to our utmost best because of various reasons but I think the boys have done very well. So far so good, and we'll concentrate on the positives until we get the results