Posted in News, Team News on Mar 03, 2023.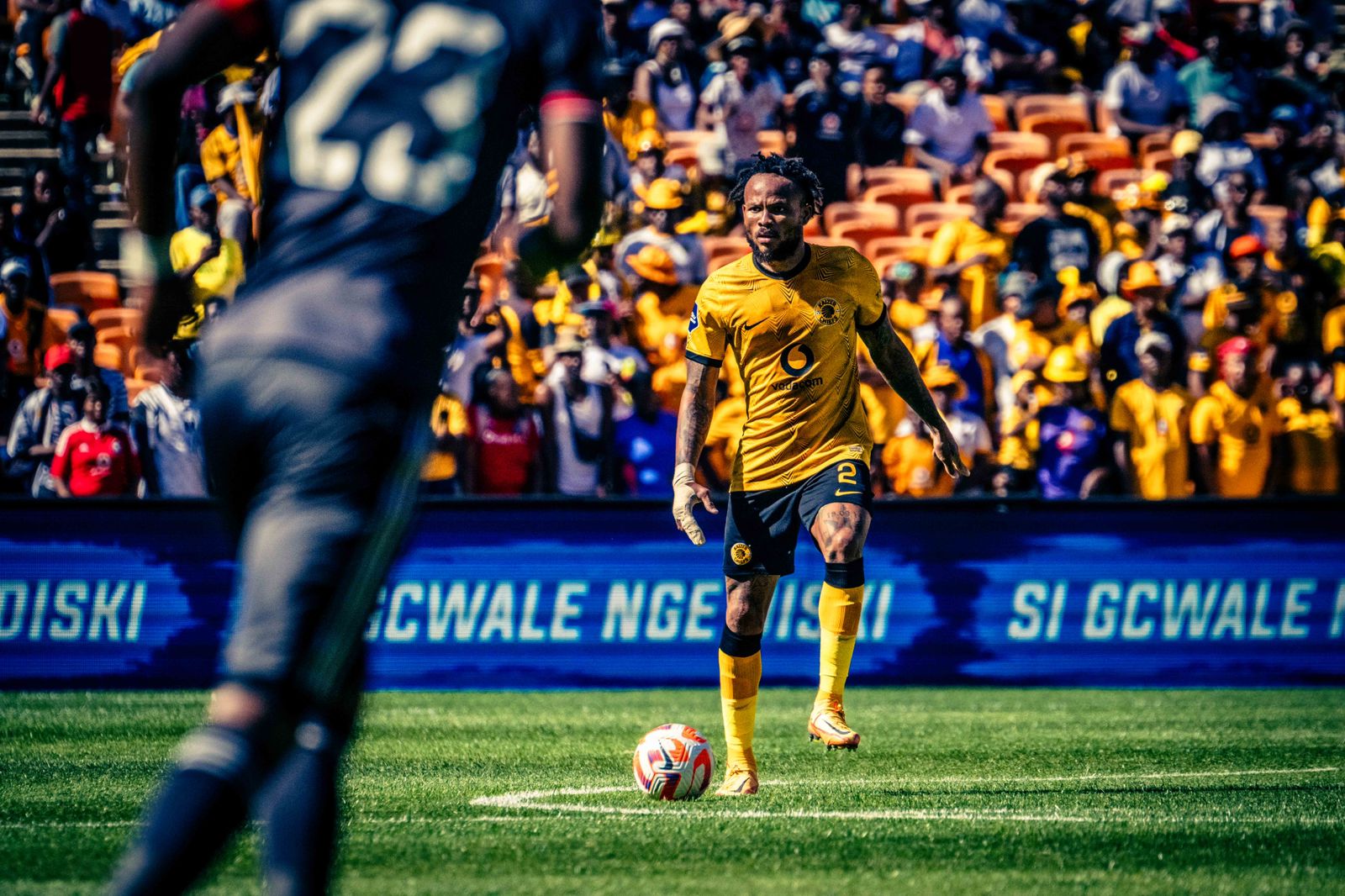 Notwithstanding the farcical nature of their winning goal, Kaizer Chiefs defender, Edmilson Dove believes his team were well worth their 1-0 victory over Orlando Pirates last weekend, as Amakhosi build up to their next DStv Premiership assignment, a tough trip to Durban to face Richards Bay on Saturday.
Dove was instrumental in the lead-up to Olisa Ndah's 89th minute own goal, for it was he who played the forward pass that the unfortunate Nigerian centre back headed into his own net.
"Going into the game we knew it was going to be difficult. It is always difficult playing against Pirates but we did everything the coach told us to do during the week at training, and I guess it worked. We played as a team and at the end of the day we got rewarded for our hard work at training," he told www.kaizerchiefs.com.
"It was a great game and it was good to see our fans back at the stadium, packed into the stands. All we could see were yellow (gold) jerseys."
Amakhosi's record breaking fifth successive win over the Buccaneers was particularly sweet, coming off the back of a disappointing 3-2 loss to Golden Arrows the previous week, a match Dove was forced to miss owing to illness. His majestic performance in the Derby underlined his importance to coach Arthur Zwane's rear guard.
Being side-lined frustrated Dove, as he admitted, "It's obviously hard, knowing you're not there. You can't contribute and you see your teammates doing everything they can but still things go wrong."
But he kept his eye on the bigger picture, encouraging the boys to persevere: "'We just had to pick ourselves up' – that's the message I sent to the group after the game. I said, 'Gents, we still have a lot to play for. We can't drop our heads down now."
The rugged Mozambican international also expressed his gratitude to the technical staff for selecting him after returning to training only two days prior.
"I also want to thank the coaches for the confidence they have shown in me." he said. "I only started training with the group on Wednesday and still they gave me a chance to be in the starting XI on Saturday. It means they trust me and that's much appreciated. When something like that happens you need to give your all to reciprocate all the trust people have in you."
Describing the goal that settled the Soweto Derby in Amakhosi's favour, Dove explained, "It was a critical phase of the match and we were a man up. The coach changed the system to having Christian (Saile) and Caleb (Bimenyimana) up front, who are both good in the air. When I saw their movement, running towards the box, I thought, 'It's never wrong to try, so I clipped the ball over the top and I think their runs helped to produce the outcome. The defender was trying to clear the ball and didn't see his positioning and it went into the net.
"At the end of the day what matters most are the three points. It was a team effort and one cannot take the credit for the contribution of many. The whole team worked hard for that result and we deserved what got."
Social media has been abuzz with gleeful Amakhosi fans revelling in their joy, with many even praising Dove for providing the assist for the winning goal.
"Since I have been here the support has been great from the fans, and my family, especially, have been there for me. My teammates, too. So, it was good to receive the feedback that I have been getting," Dove smiled, before pointing out, "More pleasing, however, is bringing smiles to our supporters' faces and giving them something to brag about. It makes me happy to see people who support us feeling joyful about what we are doing. I want to give a big shoutout to the supporters, who have been behind us through thick and thin. We hope they continue this way as they have been since the beginning of the season."
With no time to rest on their laurels, Chiefs will be aiming to produce another inspired performance this Saturday when they play Richards Bay at the King Zwelithini stadium in Umlazi. Victory for the Phefeni Glamour Boys will elevate them above the 4th-placed Rich Boys in the league standings and well positioned to qualify for next season's Champions League.
"Going into this game we are confident. We have been training hard. In training, the main focus is on what we can improve on and maintain the things we have been doing well. We shall try by all means to go there and claim the three points," adding, "It's a game of football and anything can happen but we are going to go there, give everything on the field and we hope to return to Joburg with three points in the bag.
"We are aiming for Champions League qualification. We need to keep going until the end and it's a position we have to fight for and I think we can do it," he concluded.