Posted in Features, News on Dec 24, 2022.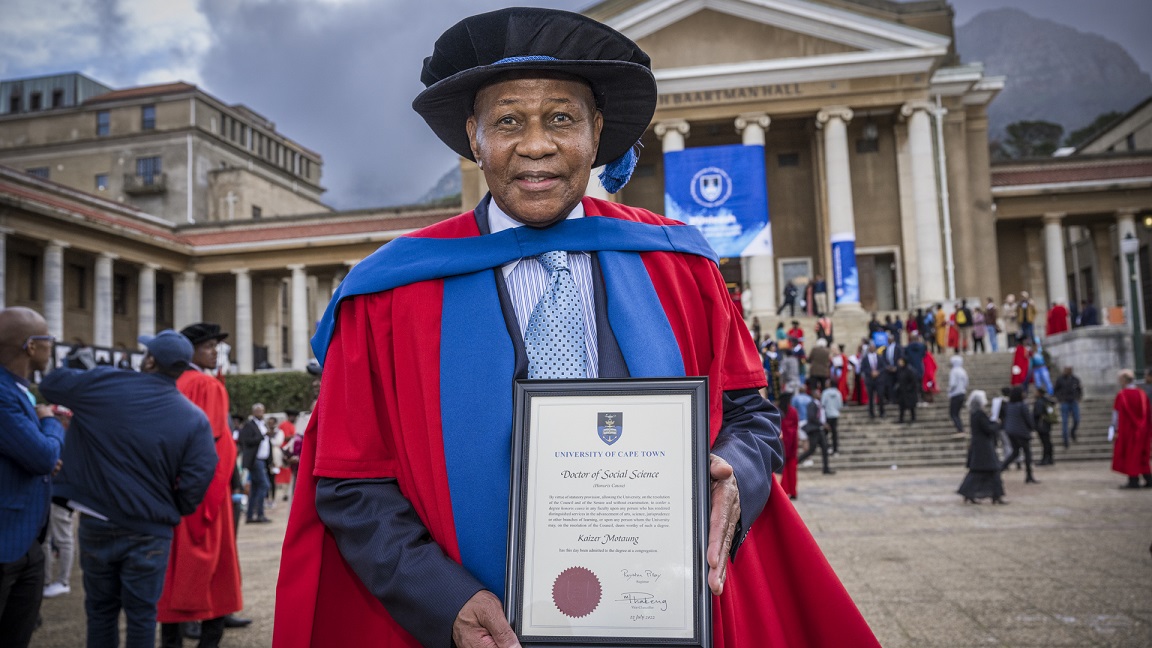 FESTIVE SEASON MESSAGE FROM KAIZER CHIEFS EXECUTIVE CHAIRPERSON, DR KAIZER MOTAUNG
Firstly, I would like to congratulate Qatar on hosting a beautiful 2022 FIFA World Cup. Qatar is not really known as a major footballing country, as such, but they gave us one of the best tournaments ever, in terms of the quality of football and their organisation of the whole event. It was a commendable achievement on their part; it was outstanding and very exciting to watch it unfold.
I would have loved to see Lionel Messi and Cristiano Ronaldo in the final, but at the end of the day Portugal did not apply the correct strategies. Big ups to Messi though, he deserves the praise. He ended on a high in what is likely to be his last World Cup. He has achieved everything and it's a great accomplishment to make Argentina the world's top footballing nation once again, a feat last achieved by the late Diego Maradona 36 years ago.
Kylian Mbappe was also phenomenal. To achieve what he has at his age is astonishing. To score a hat-trick in the final and still not win the game was a very heavy blow for him. However, you can see the future in this boy. He is going to be holding the French flag high in future World Cups. For me, he was outstanding, just like Messi, coming from nowhere in the right place at the right time to dominate world football.
It was a World Cup to remember. Messi played his part, Mbappe played his part and the world was treated to a grand finale, which ended up needing to be decided on penalties.
I would like to take a moment to reflect on Pele. It was concerning that Pele was not feeling well during the World Cup at the time. We all wished him well. I think he is okay now, and we continue to send him our best wishes. Brazil are the leaders of world football and it was unfortunate that Brazil could not put their stamp of authority on the World Cup.
As far as Kaizer Chiefs is concerned, we embarked on a rebuilding process which I believe is going to bear fruit. The coaches have had a difficult task embarking on this process while, at the same time, trying to make sure we compete for honours. It's not an easy exercise, but I have faith that we are on the right track.
Our development teams have done very well. They all won trophies, which tells you a story of what is happening in our development structures next door (at the Kaizer Chiefs Academy). I am very happy with what is happening there. We may not be able to see the fruits of our development immediately, but we are on the right track. We must remember that the team is where it is today, perhaps due to the FIFA ban not enabling us to sign players. We were forced to look inside and we promoted some good youngsters. In this new season we will see more of that happening, while we are also looking at the transfer market to deal with our immediate challenges.
I think they are going to see the fruits of our development very soon, in terms of the youngsters who have come into the first team, and I do hope our supporters will give these youngsters a chance to get their find their feet. We gear ourselves to look for a better season than last season. Ultimately, our goal is to get to the top and stay there, where we belong.
I am honoured to have received a doctorate from the University of Cape Town this year. This is the culmination of a journey I undertook when I was still a youngster playing football. Never did I ever think things would unfold the way they have and for me to have been able to achieve what I've achieved. But I did not do it alone and I want to sincerely thank all those who have been part of my journey.
Credit and gratitude must go to all the people who impacted me and whose lives I touched, as well as those who have worked with me - past and present – all of whom have been part of my journey. Without them I could not be where I am today. I am part of a collective, part of the bigger family of Kaizer Chiefs in general. Thank you to those who ultimately realized the contribution I' have made in society, by coming forward to bestow the accolade of a doctorate upon me. It's a gesture of recognition and honour for the impact I've made on communities.
Lastly, this is a time of the year where we must take a break, but also to engage in our festivities. The festive season comes with many exciting things. To the Kaizer Chiefs family, I would like to wish you everything of the best this festive season.
I would also like to wish the entire soccer fraternity, our communities, and the country at large, all the best during this period.
Let's go and celebrate this festive season and come back in one piece!