Posted in Features, News on Dec 30, 2022.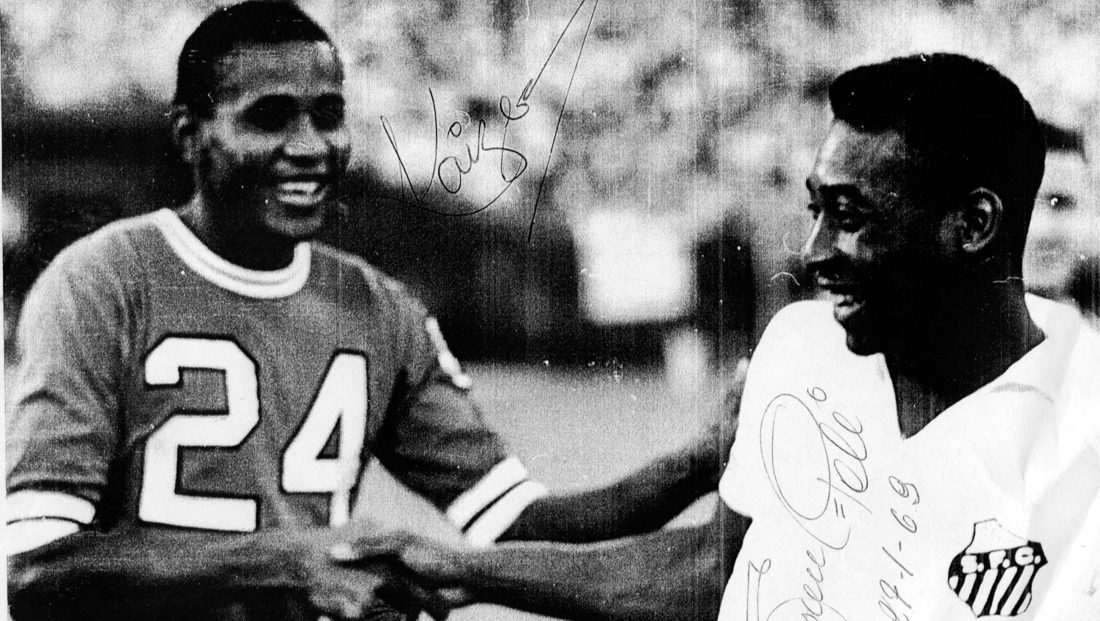 Kaizer Chiefs Executive Chairman, Dr. Kaizer Motaung, joins the footballing world in mourning the passing of Edson Arantes Do Nascimento, an icon who will forever be remembered simply as 'Pele'.
The Brazil striker and legendary three-time FIFA World Cup winner, one of the greatest footballers to grace the Beautiful Game (Jogo Bonito, a term he himself coined), died peacefully in Brazil on Thursday at the age of 82 after a long illness.
For Dr. Motaung, Pele was an early opponent who became a lifelong friend with whom he shared a close bond of mutual footballing respect.
Paying warm tribute to the man widely known as O Rei, The King, Dr. Motaung said, "For me, Pele is undoubtedly the greatest footballer of all time, the king of this beautiful game. He cannot be compared to anyone else in the game, like Maradona or Messi. He was at his own level.
"But he was more than a footballer. Off the field, he was such a humble character, which impacted a lot of people. He was always jovial and touched many people with his welcoming smile."
Speaking of the legacy Pele leaves to the world, Dr. Motaung added, "First and foremost, what Pele means to the world is that regardless of your background or your upbringing (he came from a very poor background) the opportunity is there for anyone to aspire to achieve. Ho showed that as long as you put your heart and mind to something, you can achieve your ambitions. Where he came from, how hard he worked to reach the heights he did and the way he conducted himself even when he was a superstar, is an example to everybody, especially the younger generation."
Describing Pele the player, Dr. Motaung said, "When you look at modern football and all the stars of today with their amazing technique, Pele did it first. What he did with the ball was incredible. Every skill you can think of, Pele could do it. He scored all types of goals, he could dribble, pass, you name it."
The two met on the football pitch very early into Dr Motaung's spell at Atlanta Chiefs, who he joined in 1968 for the formation of the North American Soccer League.
Dr. Motaung's introduction to the NASL had been the stuff of dreams, as he made his Atlanta Chiefs debut against English league champions Manchester City in May 1968, scoring the late winner in an exhilarating 3-2 win for Chiefs.
Soon after the City game, Brazil's top side Santos arrived with their star player, Pelé, to face Chiefs in Atlanta.
More than 30 000 fans came to watch the game at Atlanta Stadium on 28 August 1968, which was marketed as the 'Game between Kings' – meaning, Pelé versus Kaizer.
The Brazilians were far too strong for Chiefs, winning 6-2, with Pelé netting a hat-trick.
Despite the heavy loss, Dr Motaung had a magnificent game and scored Chiefs' second goal.
Pelé asked reporters after the game: "Who is that fellow in the number 24 jersey? I have never seen a guy hit the ball like him. His vision is fantastic. He sees things from miles away, which is a big help for any front runner. He is unquestionably in the Eusebio mould."
That jersey number 24 was worn by Kaizer Motaung and the Brazilian soccer great made sure he met the South African after the game, taking a famous picture, which remains one of Dr Motaung's most treasured mementoes from his footballing career. Dr. Motaung had the opportunity to present Pele with a framed picture of the pair's first meeting in Atlanta when Kaizer Chiefs participated in the Peace Cup in Seoul, South Korea in 2003, with Pele in turn presenting the 'Peace Cup Fair Play Award' to Kaizer Chiefs after the tournament.
On a personal note, Dr. Motaung, a great man in his own right, holds his encounters with Pele among his most cherished memories.
"I can only say I am very happy and proud that I had the opportunity to meet and play against him. Also, later, when he came to South Africa I had a chance to meet him again," he said.
The name 'Pele' is also a special part of Kaizer Chiefs folklore. When Dr. Motaung scoured the continent for the best footballers to form his 'galacticos' to play for Kaizer Chiefs in 1970, Namibian sensation Hermann 'Pele' Blaschke was one of the first players he recruited.
The Brazilian superstar, who remains the youngest-ever FIFA World Cup winner, was one of the biggest advocates of South Africa's bid to host the 2010 FIFA World Cup - a bid in which Dr. Motaung played an intrinsic role for many years.
The Brazilian maestro lent his full support to South Africa's hosting of the tournament, participating in the memorable "90 Minutes for Mandela" game in Cape Town in 2007 to mark Nelson Mandela's 89th birthday, with Pele headlining a game between a World XI against an African XI, which featured such luminaries as Pele, Samuel Eto'o, Chile's Ivan Zamorano, Ghana's Abedi Pele, Egypt's Hossam Hassan and Holland's Ruud Gullit.
Pele is one of only a handful of players to have revolutionised and transformed world football with his exceptional ability, skill and charisma.
"I don't quite know how to describe this person," Said Dr. Motaung, "because he has made such a big impact and touched so many hearts, especially for those from economically disadvantaged communities."
He will be fondly remembered and greatly missed. Kaizer Chiefs and its Executive Chairman shares its deep condolences with Pele's family and with the Brazilian and world footballing community as it celebrates the memory of a global football icon.
"This goodbye is particularly sad because Pele is a great loss to the soccer fraternity and the entire world. He was a gift from God and I would like to offer my sympathy on behalf of myself, my family, Amakhosi family. We share their loss. His legacy will live on. Brazil today is the Brazil we know because of Pele," he concluded.