Posted in News, Team News on Apr 27, 2022.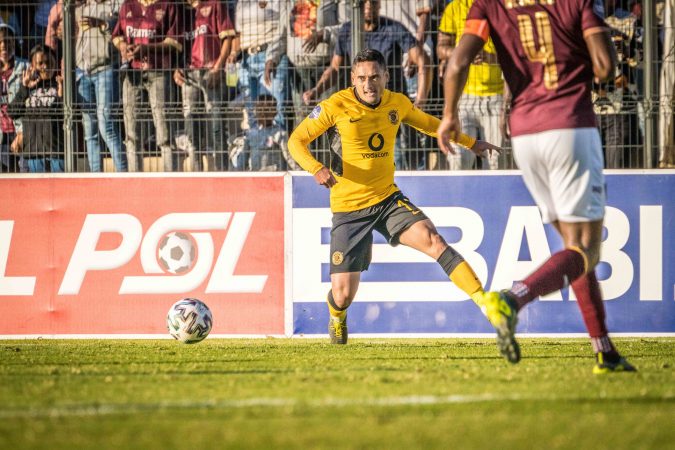 Kaizer Chiefs midfielder Cole Alexander has spoken of the "absolutely amazing feeling" of playing in front of Amakhosi's faithful supporters in the stands.
The return of fans to the stadiums for the home game against SuperSport United and away clash at Stellenbosch FC, unfortunately, hasn't translated into the desired results on the pitch, but Alexander and his teammates have undoubtedly been lifted by the fans' return.
"For me, it was an amazing experience. I know it wasn't full capacity and the stadiums are allowed 50%, but even with those numbers at the stadium, it was an absolutely amazing feeling. It's like a renewed energy that comes with it. You step onto the field, just inspecting the field and you hear the fans going on. It gives you that extra energy, that extra motivation and for me, that is a big advantage for us as players," Alexander told www.kaizerchiefs.com ahead of Chiefs' trip to Durban to face Golden Arrows in the DStv Premiership.
"Unfortunately we did not manage to get the result, but their support and their energy was superb and it really felt great. I can only imagine how much nicer it will be if the stadiums are really filled. It's just been a pleasure to play in front of a crowd and for me, it's a huge advantage," says Alexander.
For the defensive midfielder finally playing in front of the fans "met my expectations and more", especially against Stellenbosch in his home province.
"For me, I had so much motivation to play in Cape Town because of my family and my community coming to watch me. Being away from home and having the majority of fans still supporting us, making noise and backing us, even being 1-0 down, that for me was amazing. The fans still stood behind us. For me, it was a nice feeling playing in front of them. The most important thing was that extra bit of energy that I felt and I'm sure my teammates felt as well and that extra motivation to go the extra mile on the pitch. It's a big advantage for us," says Alexander.