Posted in News, Team News on Apr 13, 2023.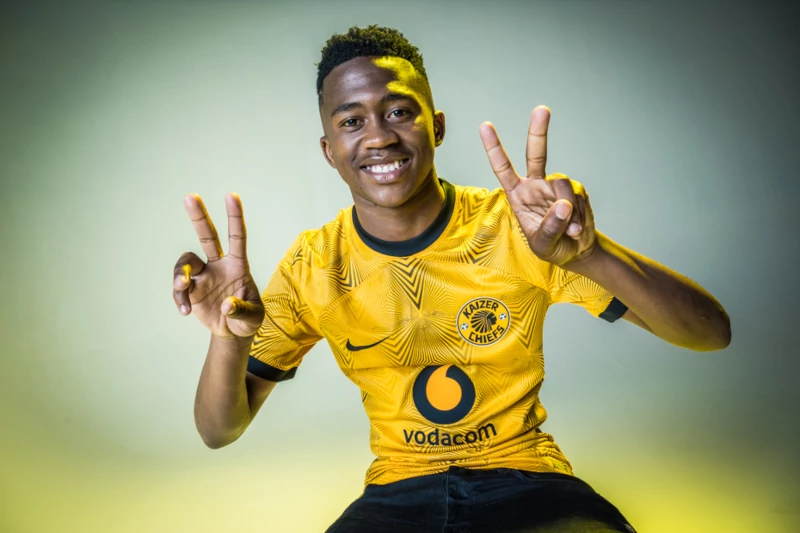 One of Kaizer Chiefs' most promising young starlets, Mduduzi Shabalala cuts a confident figure as he prepares to face Royal AM this weekend, as the Club resumes its pursuit of the last piece of major silverware available this season.
"I'm feeling good and very excited about playing in the Nedbank Cup quarterfinal ," he tells www.kaizerchiefs.com, "and we are preparing very well for the encounter on Sunday. We will try to do our best. As you know, we didn't do much in the last game we played against Marumo (Gallants) so we are going to push as much as possible to get to the next round."
Amakhosi will play in Chatsworth, just south of Durban in a 18:00 kick-off on Sunday evening against a Royal AM outfit that will be tough to beat in their own back yard, although Shabalala believes there are certain aspects of their game that can be exploited.
Next Match Tickets Nedbank Cup quarterfinal Royal AM vs Kaizer Chiefs
"We have been looking at them. I watched their game against Marumo," Shabalala reveals. "We saw their weaknesses and their strong points. We'll try to take advantage their weakness because they are a good ball-playing team, just like us, so we'll try to do our best to score as many goals as we can."
Shabalala was promoted to the senior squad about a year ago, making sporadic appearances, mostly off the bench, until the tun of the year when he began to establish himself as a regular member of the match day line-up. Still only a teenager, he has boldly put himself forward to seize the opportunity of ending the Amakhosi faithful's long wait for the Club to lift a trophy.
"Obviously, we are the ones who can change this," he states, "We are the ones who are playing and we are trying our level best so that we can get to the final and win the Nedbank Cup and put the Club back where it belongs. The commitment, the fight and the desire is there for us to go all the way."
Despite his youth, Shabalala's maturity extends beyond his awareness on the football pitch and he acknowledges the frustration among the fans while simultaneously recognising their positive effect on the team.
"I can only say that they must come in numbers to all our games that we play. They are a great motivation to us, like an extra man in the game. They help us to push more than the opponents because of their voices in the stands. They can help us turn things around and change the situation of a game, so I'm begging, please come in numbers and help us try to win the Nedbank Cup," he says with genuine sincerity.
With five league matches remaining, Chiefs are also still in contention for a CAF Champions League spot, which goes to the runners-up, Shabalala is confident they will add a couple more fixtures to their season.
"We have eight games left," he smiles, "Because we want to go to the final We are conditioning ourselves very well. We are going to need a lot of rest in between the matches so that we can have more energy when we play, but I believe we can do it."
The Nedbank Cup quarterfinal between Royal AM and Kaizer Chiefs at Chatsworth stadium, Durban, kicks off at 18;00 on Sunday 16 April. Tickets for this mouth-watering clash are on sale through TicketPro and other outlets, including Spar Supermarkets, Sasol filling stations, and Postnet, at R60 per ticket.